FASHION CULPRIT OF THE DAY: Taapsee Pannu, There's Way Too Much Going On There
There's a denim blouse there, a black-and-white striped drape, a blue-and-white striped drape, there's also a red-and-white candy stripe happening somewhere, oh and wait, did we forget the white sneakers? Taapsee Pannu is wearing ALL of this today. Wait she's wearing more – her trademark confidence and a million-dollar smile. The only two things that seem to be saving the day for her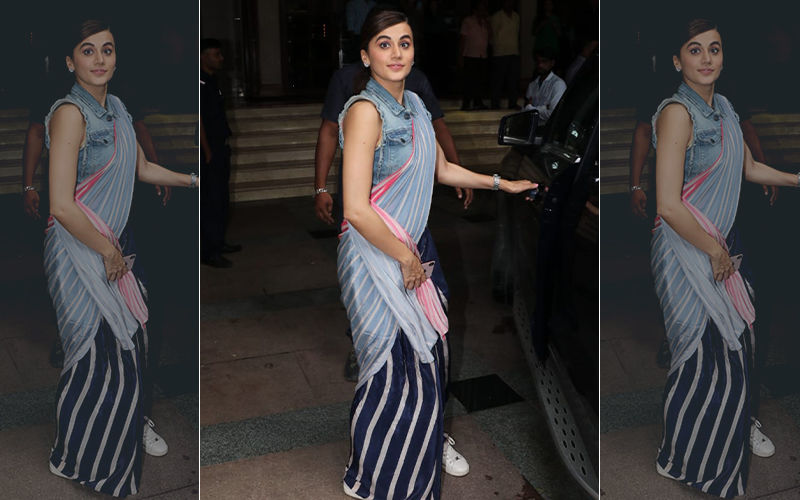 There's a denim blouse there, a black-and-white striped drape, a blue-and-white striped drape, there's also a red-and-white candy stripe happening somewhere, oh and wait, did we forget the white sneakers? Taapsee Pannu is wearing ALL of this today. Wait she's wearing more – her trademark confidence and a million-dollar smile. The only two things that seem to be saving the day for her.

Taapsee, who will be seen wearing a plethora of sarees in her upcoming release Mission Mangal, is sticking to the same design brief for her promotional outings. But she's giving a fun twist to her sarees, going a different fusion set every time. This afternoon for the trailer launch of Mission Mangal, she seems to have gone a little overboard though. Don't you feel?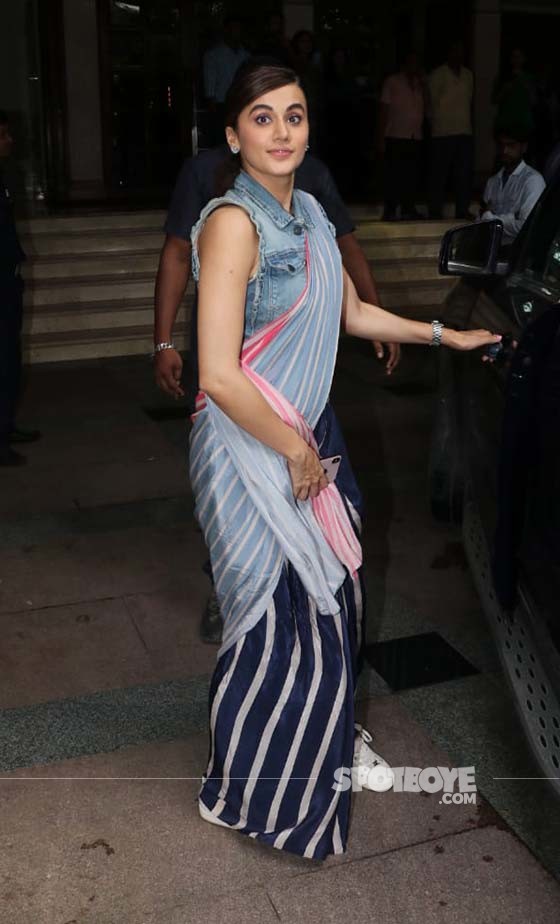 FLAWS:
Wish I could point to one thing but the truth is that there are just way too many problems with this piece. Taapsee takes the concept of a Fusion Saree to a whole new level, and for once, it is not working. Perhaps the denim blouse could have been switched with a plain cotton button-up or an off-shoulder number, for a more balanced look. Also, get rid of them Vans, girl!


Image Source:- Viral Bhayani