Kim Kardashian Recycles Her Tote Bag Customized With A Nude Painting, Gifted By Kanye West In 2013-PIC INSIDE
Kim Kardashian was spotted recently carrying the same tote bag that her rapper hubby Kanye West gifted her seven years ago, thereby becoming the latest celeb to join the sustainable fashion bandwagon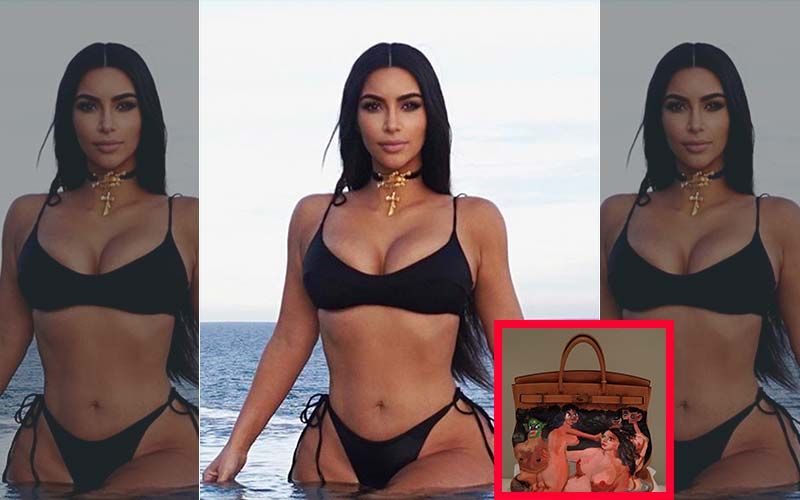 Very rarely do we see celebrities repeat their outfit, or use the same shoes or bags on different occasions. However, the times are changing, and there's greater awareness about sustainability, which is the reason why we now sometimes get to see celebs making a conscious decision to go sustainable and use the same outfit or accessory. Just a few days ago, during the Trumps' visit to India, we saw Ivanka Trump step out wearing the same floral dress she wore during her visit to Argentina. Now, Kim Kardashian, too has recycled the same bag from seven years ago!
Kim Kardashian was recently spotted carrying the same tote bag that her rapper hubby Kanye West gifted her seven years ago, thereby becoming the latest celeb to join the sustainable fashion bandwagon. The oversized Hermes Birkin tote bag was customized and had a nude painting by the artist George Condo. She was spotted in an all-black leather outfit, and accessorized it with her statement handbag. Another picture of Kim from seven years ago, is also making the rounds of the Internet, as it shows her carrying the same bag.
Check out Kim Kardashian's looks from 2013 and 2020:
Kim Kardashian had shared a picture of her handbag after she got it as her Christmas gift from Kanye West in 2013, and her fans were in awe of it.
Meanwhile, Kim Kardashian was in Paris to attend the Paris Fashion Week. Kim and Kourtney were both spotted wearing latex outfits for Kanye West's Sunday Mass and they got trolled for their fashion choices.
Image Source: Instagram/kimkardashian/kimberlysbooty