Malaika Arora's Sober Pantsuit VS Bhumi Pednekar's Glitzy One: Whose Look Impressed You The Most?
A new day calls for a new Fashion Faceoff! This time we have Malaika Arora and Bhumi Pednekar in their pantsuits. However, one has definitely not made us lovestruck while the other one seemed pretty. Any guesses?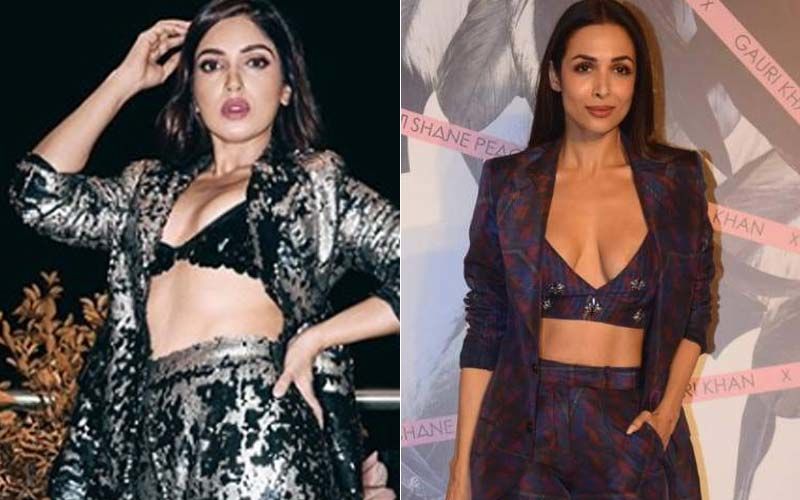 Fashion face-offs have become common than ever and now we are honestly curious in knowing whether these are 'inspired' by each other or just a coincidence of wearing similar outfits. From Deepika Padukone, Katrina Kaif to Sara Ali Khan and Alia Bhatt, we have seen almost everyone wearing a similar outfit at some point or another. Of course, the only thing that makes it similar instead of same is the way they dress it up. Giving their own to the look only brings out the new charm and essence. Nevertheless, this time we came across two leading ladies of Bollywood wearing similar pantsuit style and they are Bhumi Pednekar and Malaika Arora.
As we were scrolling down our social media feed, we spotted the two ladies wearing the pantsuit and as usual, one has definitely not made us lovestruck while the other one seemed still fine. Well, let's begin with Malaika Arora's look which was a lot subdued compared to her loud fashion statements that are bound to make noise. In this sober pantsuit, it definitely accentuated her toned body, the colour and the pattern seem just about okay. With minimal makeup and absolute no accessories, while rounding her look keeping her beautiful tresses down, there's nothing to go gaga over Malla's look.
Speaking of Bhumi Pednekar, most of the times, we see the Pati Patni Aur Woh actress taking some risk in fashion which does some wonders while some don't. However, Bhumi's look in this pantsuit…we like. The glitzy jazzy pantsuit makes not be everyone's cup of tea but Pednekar is surely working that right. Pairing it with a nice plain black bralette, it gives more value to the pantsuit. The shimmery nature of the dress is a better pick when attending a party or a red-carpet event. Having said that, the outfit is really bringing her toned midriff on display and she looks pretty.
So, whose looks impressed you the most?