Met Gala 2021: Emily Blunt, Kaia Gerber, Lili Reinhart, Yara Shahidi, Lupita Nyong'o And Zoe Kravitz Were The Best-Dressed Women This Year
Zoe Kravitz, Emily Blunt, Kaia Gerber, Lili Reinhart, Yara Shahidi and Lupita Nyong'o rocked the Met Gala 2021 red carpet with their bold sartorial choices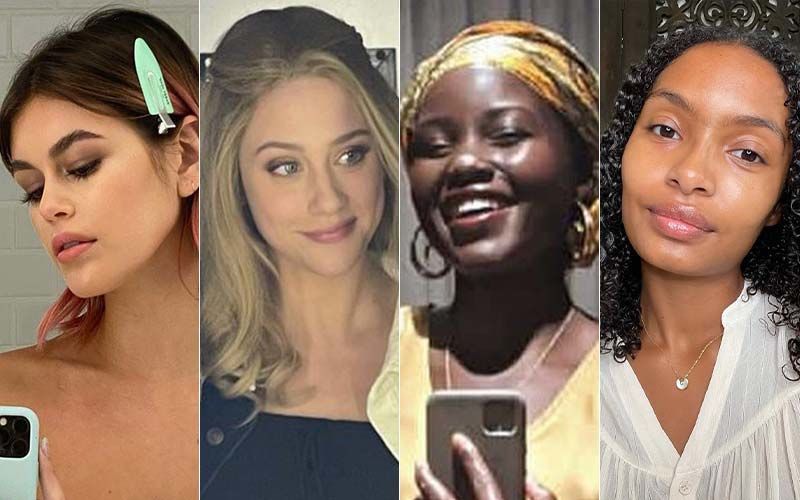 Dubbed 'fashion's biggest night out', the Met Gala is held annually to raise funds for the Metropolitan Museum of Art's Costume Institute in New York. While the event was cancelled last year due to the pandemic, this year it's back again with a bang.
Met Gala 2021's costume theme, "In America: A Lexicon of Fashion," and exhibition embody themes of joy, rebellion, and nostalgia and it saw some breathtaking couture as A-lister celebrities walked up the famous steps of the Metropolitan Museum of Art. Some followed the theme to the tee while some gave it a total miss. Here are the women this year, who we think, were the best-dressed.
Daughter of Cindy Crawford, supermodel Kaia Gerber, looked stunning in a black, strapless Oscar de la Renta gown. She paid an homage to style icon Bianca Jagger's 1981 Met Gala look.
The Sun Is Also a Star actress Yara Shahidi paid a true homage to old Hollywood glamour by giving a nod to Black American icon Josephine Baker's legacy. The custom gown by Dior had elements incorporated in it from Josephine's actual wardrobe. The diamond headband and the accompanying veil were perfect additions.
Emily Blunt's gorgeous outfit was inspired by Hedy Lamarr's classic American fashion film, Ziegfeld Girl, which came out in 1941. The floor-length gown with a white cape attached to the bodice was accessorised with a star-spangled headgear. Old Hollywood fashion, done right.
Riverdale star Lili Reinhart's striking Christian Siriano corset gown featured all 50 state's flowers! The baby pink semi-sheer gown, designed by the Project Runway alum, with a train featuring multi-coloured flowers from all states was a perfect nod to the night's theme.
Lupita Nyong'o did the impossible, she brought denim to the red carpet and made it fashionable couture! Lupita looked stunning in this Versace gown that was a confluence of beaded detailing and denim panels. Her striking hair was just the cherry on top.
Zoe Kravitz was totally off-theme but we love this bejewelled Saint Laurent slip dress. Zoe confidently flaunted her figure in this stunning outfit and left the Met Gala afterparty with rumoured boyfriend Channing Tatum.
Congresswoman Carolyn B. Maloney made a political statement by wearing a floor-length colourful ensemble flaunting a powerful message: "Equal rights for women," a tribute to the 19th Amendment. She also wore a bag emblazoned with "ERA YES," an endorsement of the proposed Equal Rights Amendment.
Next spring's gala is set for May 2, 2022, launching the second part of the exhibition titled "In America: An Anthology of Fashion," opening May 5.
Image Source: Instagram/kaiagerberrx/blackwomenfeed/pradaxbby/glamfendi/cinebluntt/cfda/lilireinhartluv_/defpen/_metgala2021/zoekravitzinc/theladysroom.ng.