Pooja Hegde's Winter Style Files In 10 Glossy Pictures: From Dramatic White Dress With Boots To A Sassy Christmas Outfit
Winter fashion is always a difficult suit to ace with the worry of protecting yourself from those chilly winds without letting your style game drop. Here's Pooja Hegde to the rescue!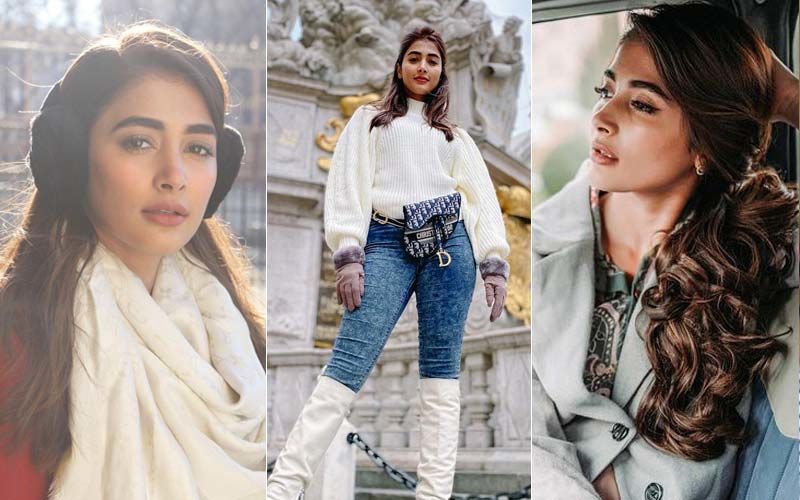 Winter fashion is always a difficult suit to ace with the worry of protecting yourself from those chilly winds without letting your style game drop. Pooja Hegde is here to help us out with some major fashion goals she has set with her winter fashion. With casual yet chic looks Pooja gives outfits which can be graced for the casually 'hanging out' days as well as the days when you want to notch the glam up just a bit. Let's have a look at some of the best outfits to be inspired by this winter:
1) Light and Dark shades of blue paired together:
You can team up a light blue shade of a knee length dress with a darker shade of blue as the two colours give similarity in contrast and protect you at the same time. You can leave the coat open when you want to show off the dress and button it up when the cold gets more than you can bear. Pooja does look like she's having fun dressed in this even in the cold, so it's definitely working.
2) Pooja in a casual white sweater with a striped texture:
This is the best option for any lunch plan or just hanging out with friends where you can team up this woolen plain white sweater which has textured lines and pair it with blue denims or black jeggings as you like. It really goes with anything and Pooja Hegde does look really cute in this.
3) Jeans with a printed puffer jacket:
If you're looking for casual yet chic then what's better than pairing plain blue denims with a plain top covered with a printed puffer jacket like Pooja has done. When the winter is at its peak and the puffer jackets are out pair a printed one with any plain trousers that can have you high on style yet comfy in casuals.
4) Christmas look:
With Christmas right around the corner, get your red overcoats out and pair it with a white scarf. Pooja has doubled up on the winter essentials with black earmuffs as well which keeps the attention to the red coat. You can wear anything under it as far as there is red and white outshining the rest on top and giving a perfect Christmas look.
5) Plain outfit with a printed cape coat:
Pooja Hegde looks every bit fashionable in this simple outfit. Wearing black on black basics, Pooja elevated the look, topped it with a floor length black cape coat with thick white stripes which adds edginess to the look.
6) The grey overcoat with prints under:
Ace your simple look game with a printed dress under a completely plain grey overcoat. The print visible from the neckline flows into a blush nude colour at the flare of the dress is a perfect look for any outing during the day. The dullness of grey is a perfect match for a winter look with minimal coloured prints.
7) Dark jeans with a pink overcoat and a beret:
Pooja Hegde has the perfect Eiffel Tower moment in these dark coloured jeans with a pretty pink overcoat. Topping it with a bottle green velvet finish beret is the coolest outfit for your winter glam.
8) Red checkered shirt with plain jeggings:
With the perfect look to either travel or even chill this winter, you can always wear a checkered shirt especially in red like Pooja Hegde and pair it with plain black jeggings and super smart black boots. Definitely the go-to look for even a night out in the season.
9) Colour pairing of white and blue:
With the glamour quotient raised up a level in this simple outfit, Pooja Hegde wears dark jeans with faded print texture and a plain white sweater pairing the all time favorite colour combination of blue and white. But what glams up the look are the glossy white knee-high boots and a fanny pack at the waist. Perfect party look for the day as you're sure to make a statement with this outfit.
10) Glamorous white dress with boots:
The most glamourous and elegant look for the winter has to be this white collar dress with knotted sleeves and and medium deep neckline topped on by a belt. Pooja paired this with mint green suede boots with glass heels and we are super-inspired. Such a simple yet chic look is just what you need for a perfect glam quotient this winter.
Image source: Instagram/hegdepooja