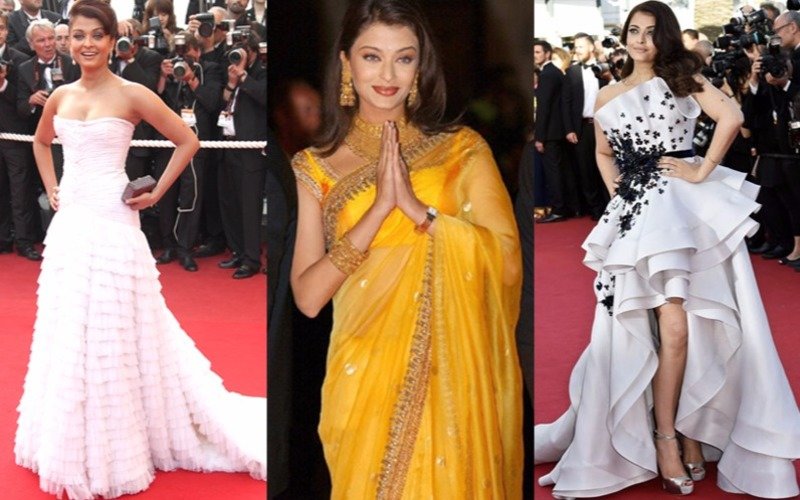 Your browser does not support the video tag.
You Wore WHAT!?

This year, Aishwarya Rai Bachchan will walk the Cannes red carpet for the 15th time. In these years, Aishwarya has showcased her movies, been on the jury and walked the red carpet as L'Oréal's ambassador. Her time on the red carpet has been a volatile one – I've either loved her style or was struck dumb by her lack of taste.

2002


Image Source: newskarnataka

Aishwarya's Cannes debut was memorable but not for the right reasons. She attended the festival with the team of Devdas, and maybe she took too much inspiration from the opulence of the film and went all out in this Neeta Lulla sari.

2003


Image Source: gala

This time she returned as a jury member and despite the earlier year's lacklustre red carpet performance, she stuck with designer Neeta Lulla. The neon green sari was a WTF moment that I'm still wondering about.

2004


Image Source: feminiya

Another year, yet another Neeta Lulla. This time Aishwarya moved away from the desi looks and chose a gown instead. It tried to be daring and sexy what with all those cut outs but failed.

2005


Image Source: asoigneaffair

This was the year when someone sat Aishwarya down and told her that things must change. And she did listen because we saw her in a flirty, floral Gorgio Armani. Thank the Gods!

2006


Image Source: bollywoodslides

She continued with her fashionable streak in a strapless gown. This one's not timeless but Aishwarya looked lovely then. Also, how gorgeous is her necklace!

2007


Image Source: bollywoodslides

This year, Aishwarya brought her new hubby Abhishek as her date. While he looked sharp, she looked glamorous in a sliver strapless number. Her eye make-up, though, was a little too '90s for my taste.
2008


Image Source: bollywoodslides

While her other appearances this year were rather fashionable, this fuchsia number was so not.
2009


Image Source: vettri, aishwaryaraifanclub

Aishwarya chose a dramatic Cavalli and while it stood out on the red carpet it was her hair that disappointed. It felt too shaadi-like.

2010


Image Source: babyrazzi, bollywoodslides

One of her many looks was this violet mermaid gown with actual scales on them because mermaid. If that was not crazy enough, her hairstyle was just bonkers.

2011


Image Source: theodora

This colour blocked geometric Armani Prive was gorgeous. It was sleek and glamorous and a style Aishwarya should wear more often.
2012


Image source: awomensclub

Aishwarya shut down body shamers when she walked the red carpet in this intricate Elie Saab.
2013


Image Source: fashiontrendspk, fashionlady

While the lines on this Gucci gown are sharp and beautiful, somehow the look did not come together. I blame that Danish pastry hairstyle.
2014


Image Source: fashionawards

In this, Aishwarya showed us what it meant to be a freakin' international superstar.
2015


Image Source: indiawest

Aishwarya had a great 2015 at Cannes. However, what stood out was this Ralph and Russo. The lovely gown, her hair and make-up... everything came together to make one kick ass look.


Thumbnail Image Source: vettri/newskarnataka/indiawest