Sonam Kapoor's Throwback Photoshoot Has VINTAGE Written All Over
Sonam Kapoor's fashion sense has often been on the impressive side. Now, the actress shares a couple of pictures that depict vintage stories. From gown, skirt to pantsuit, Sonam slays in all the outfits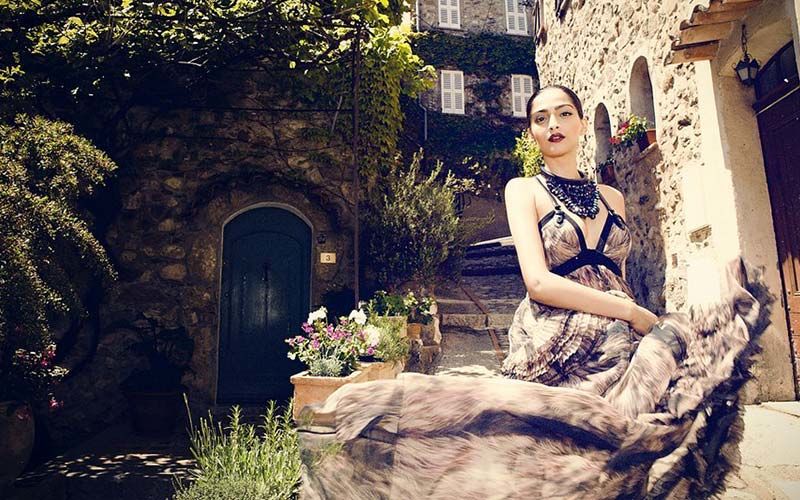 Seldom has Sonam Kapoor disappointed us with her sartorial choices. Even in times of COVID-19, the actress is keeping our spirits rising with her throwback moments on social media, that are replete with some lovely outfits.
Now, the actress shares some pictures from an old photoshoot and they clearly have vintage written over them. So let's dig in and decode each of the picture to see how well she scores on the style meter.
In the first pic, Sonam is wearing a lavender blue long top with a white waist belt and a short monochrome skirt and net stockings. There's a vintage car in the backdrop, the use of colors in the picture is quite bright especially on her face that has light makeup. Sonam ditches accessories and keeps her hair neatly tied in a bun.
In the second picture, Sonam is dressed in a lovely gown with flares amidst the backdrop of a bungalow with interesting carvings. Here again, she keeps her hair tied in a similar fashion and she chooses a heavy black neckpiece that covers major portion of her neck.
And finally, in the third picture, Sonam is wearing an all black pantsuit with shiny pointed heels. She also tied a scarf around her neck in bow tie fashion.
In its entirety, right from the color palette to Sonam's outfits, the photoshoot is reminiscent of olden times and that's what we love the most about it.
image source:-instagram/sonamkapoor