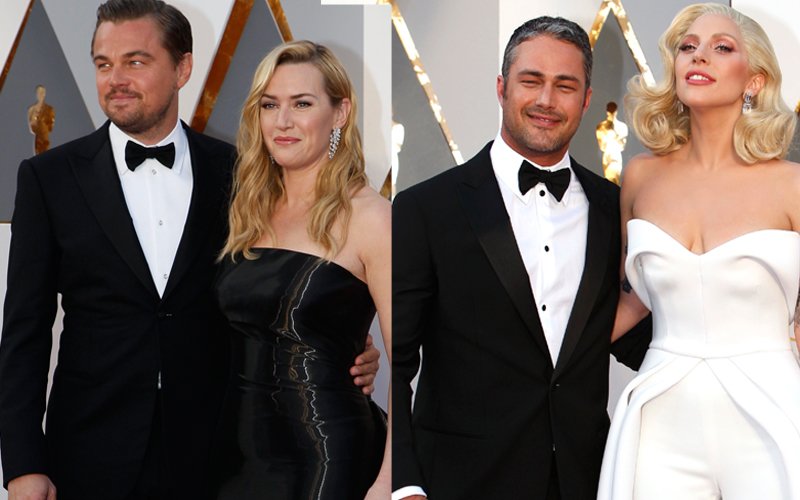 The awards ceremony was a star-studded one but was it a fashionable one? Let's
Charlize Theron aced the tricky move of wearing red on the red carpet in her Dior.
Charlize wore the plunging neckline with such ease and that statement necklace sure
helped up her style game.
Brooklyn star Saoirse Ronan's green Calvin Klein gown was a nod to her home
country of Ireland and so were the mismatched white and green earnings. What a
gorgeous tribute.
Lady Gaga does not really follow rules and she bucked Oscar red carpet tradition of
wearing a gown. Instead she wore pants with a faux skirt around them. Only Gaga
can pull off something like this. PS: How hot is her fiancé actor Taylor Kinney!?
Oscar nominee Jennifer Lawrence was in a sheer and black lace Dior. It could have
looked lingerie-ish but Jennifer makes it look red carpet-worthy.
Supporting actress winner Alicia Vikander looked nothing less than stunning in her
Louis Vuitton. The Internet even compared her to Belle from Beauty and the Beast.
Don't think that was far off.
The gorgeous Heidi Klum failed miserably on the red carpet. This lavender Marchesa
was a monstrosity of one-sleeved, flowers attacking hell.
Kate Winslet's Ralph Lauren number looks like lightening blots are striking through
it. Hope they had destroyed the dress.
Oh hi, Leo. Congratulations on the Oscar win. FINALLY!
Image source: oscar-go