Box Office Collection:आईपीएल के बावजूद अक्षय कुमार की फिल्म केसरी ने पहले वीकेंड में की ताबड़तोड़ कमाई
बैटल ऑफ़ सारागढ़ी पर आधारित इस फिल्म में दिखाया गया है कि कैसे ब्रिटिश भारतीय सेना के सिर्फ 21 सिख जाबांजों 10 हजार की अफगान सेना का सामना किया था.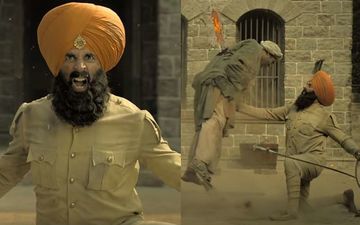 होली के मौके पर रिलीज हुई अक्षय कुमार की फिल्म केसरी के पहले वीकेंड का कलेक्शन सामने आ चुका है. उम्मीद के मुताबिक अक्षय कुमार की ये फिल्म बॉक्स ऑफिस पर अपना दम दिखाने में कामयाब रही है. दरअसल इस शनिवार से फटाफट क्रिकेट यानी आईपीएल 12 की शुरुआत हो चुकी है. जिसका असर अक्षय कुमार की फिल्म केसरी के उपर जरूर पड़ा लेकिन फिर भी रविवार को ये फिल्म 20 करोड़ से उपर की कमाई करने में कामयाब रही.
ट्रेड एनालिस्ट तरण आदर्श ने फिल्म केसरी एक 4 दिनों के बिजनेस को सामने लाया है. तरण के मुताबिक पहले दिन 21.06 करोड़, दूसरे दिन 16.75 करोड़ और तीसरे दिन 18.75 करोड़ करोड़ कमाने वाली ये फिल्म रविवार को 21.51 करोड़ की कमाई करने में कामयाब रही. जिसके बाद इस फिल्म के पहले वीकेंड का कुल कलेक्शन 78.07 करोड़ रहा. हालांकि आईपीएल ने केसरी कलेक्शन पर असर डाला है. वरना इसका बिजनेस और भी बढ़ सकता था. यह भी पढ़ें: देर रात अक्षय कुमार से मिलने की चाहत पड़ी भारी, अब जेल में काटनी पड़ रही हैं रातें
#Kesari puts up an impressive total... North circuits are superb... While the 4-day total is good, the biz on Sat and Sun should've been higher, since the word of mouth is excellent... Thu 21.06 cr, Fri 16.75 cr, Sat 18.75 cr, Sun 21.51 cr. Total: ₹ 78.07 cr. India biz.

— taran adarsh (@taran_adarsh) March 25, 2019
आपको बता दे कि फिल्म केसरी 1897 में ब्रिटिश भारतीय सेना की एक छोटी सी टुकड़ी और अफगान सेना के बीच हुए बैटल ऑफ़ सारागढ़ी (सारागढ़ी का युद्ध) पर आधारित फिल्म है. इस युद्ध में ब्रिटिश भारतीय सेना के सिर्फ 21 सिख जाबांजों 10 हजार की अफगान सेना का सामना किया था. इस फिल्म का ट्रेलर हर किसी को बहुत ही पसंद आया था. फिल्म के निर्माता करण जौहर है तो वही इस फिल्म को अनुराग सिंह ने डायरेक्ट किया है. यह भी पढ़ें: अक्षय कुमार के साथ काम करना चाहते हैं शाहरुख खान, लेकिन खिलाड़ी की इस आदत की वजह से...
ये फिल्म अक्षय की साल 2019 की पहली फिल्म है. जिसने रिलीज के साथ ही झंडे गाड़ दिए हैं.
They say the best things in life are free! India's favourite music channels 9XM, 9X Jalwa, 9X Jhakaas, 9X Tashan, 9XO are available Free-To-Air. Make a request for these channels from your Cable, DTH or HITS operator.