अमिताभ बच्चन और ऋषि कपूर की फिल्म '102 नॉट आउट' ने दो दिन में कमा लिए इतने करोड़ रुपए
महानायक अमिताभ बच्चन और ऋषि कपूर की फिल्म 102 नॉट आउट रिलीज हो चुकी हैं. शुक्रवार को बॉक्स ऑफिस पर रिलीज हुई इस फिल्म को पहले दिन तो कुछ खास ओपनिंग नहीं मिली लेकिन दूसरे दिन यानी शनिवार को फिल्म की कमाई सुधार देखने को मिला.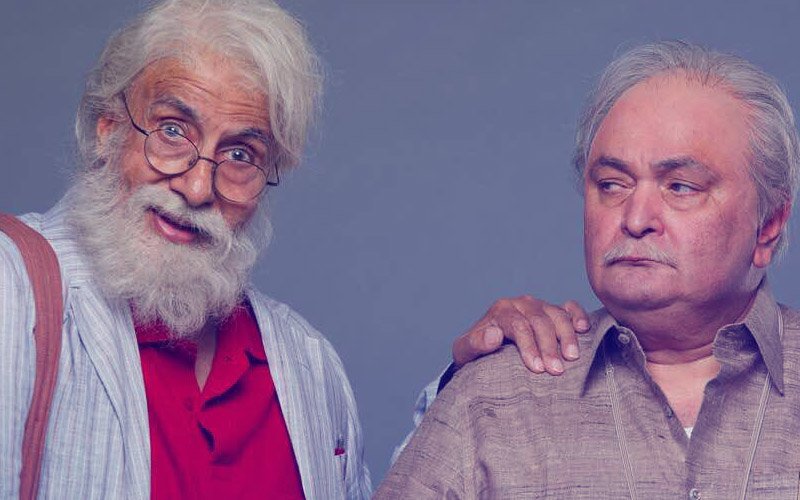 महानायक अमिताभ बच्चन और ऋषि कपूर की फिल्म 102 नॉट आउट रिलीज हो चुकी हैं. शुक्रवार को बॉक्स ऑफिस पर रिलीज हुई इस फिल्म को पहले दिन तो कुछ खास ओपनिंग नहीं मिली लेकिन दूसरे दिन यानी शनिवार को फिल्म की कमाई सुधार देखने को मिला. ट्रेड एनालिस्ट तरण आदर्श के मुताबिक, दूसरे दिन फिल्म की कमाई में 57.10% का उछाल आया.
तरण आदर्श ने ट्वीट करके फिल्म के दूसरे की कमाई का आंकड़ा सामने लाया है. पहले दिन साढ़े तीन करोड़ की कमाई करनेवाली इस फिल्म ने दूसरे दिन 5.53 करोड़ रुपये कमाए. अमिताभ बच्चन और ऋषि कपूर स्टारर इस फिल्म को माउथ पब्लिसिटी का बेहद फायदा मिला है.
Strong word of mouth is translating into BO numbers... #102NotOut witnesses an upward trend on Day 2... 57.10% growth... It's all about maintaining the pace today [Sun] and also on weekdays... Fri 3.52 cr, Sat 5.53 cr. Total: ₹ 9.05 cr. India biz.

— taran adarsh (@taran_adarsh) May 6, 2018
उमेश शुक्ला के निर्देशन में बनी इस फिल्म ने दो दिनों में 9.05 करोड़ रुपये कमा लिए है.
ऋषि कपूर और अमिताभ बच्चन 27 साल बाद फिल्म '102 नॉट आउट' में एक साथ नजर आ रहे हैं. फिल्म में ऋषि कपूर अमिताभ बच्चन के बेटे बने हैं. अमिताभ फिल्म में 102 साल के हैं और जिंदगी को खुले दिल से जीते हैं. जबकि ऋषि कपूर की जिंदगी एकदम नीरस है. उम्र सिर्फ एक आंकड़ा है और यही इस फिल्म की फिलॉसफी है.