Box Office Report: जॉन अब्राहम की फिल्म 'परमाणु' ने दूसरे दिन की 7.64 करोड़ का बिजनेस
फिल्म ने दूसरे दिन 7.64 करोड़ की कमाई की है. कुल मिलाकर दो दिन में फिल्म ने 12.46 करोड़ की कमाई कर ली है.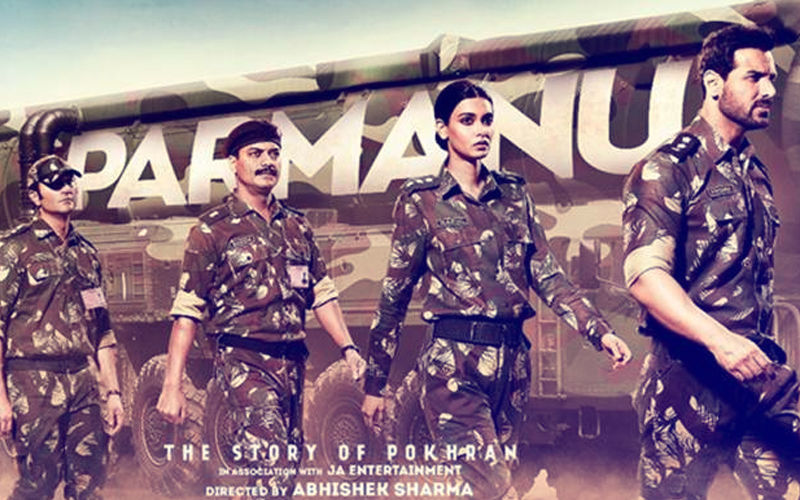 एक लंबे समय से रिलीज के लिए तैयार खड़ी जॉन अब्राहम की फिल्म 'परमाणु: द स्टोरी ऑफ पोखरण', काफी विवादों के बाद बीते शुक्रवार को सिनेमाघरों में रिलीज हो गई. इस फिल्म से जॉन भी काफी वक्त बाद बड़े पर्दे पर वापस आए. जॉन की इस फिल्म को क्रिटिक्स से ठीक-ठाक रिस्पांस मिला है. लेकिन दर्शक इस फिल्म को कितना पसंद करेंगे इस पर सभी की निगाहें लगी हुई थी.

फिल्म ने पहले दिन 4.82 करोड़ का बिजनेस किया और अब फिल्म के दूसरे दिन की कमाई भी सामने आ चुकी है. ट्रेड एनालिस्ट तरण आदर्श ने फिल्म की दूसरे दिन की कमाई के आंकड़े को शेयर किया है. फिल्म की कमाई में दूसरे दिन 58.51 % बढ़ोतरी हुई है. जी हां फिल्म ने दूसरे दिन 7.64 करोड़ की कमाई की है. कुल मिलाकर दो दिन में फिल्म ने 12.46 करोड़ की कमाई कर ली है.
Solid word of mouth catches up... SUPERB 58.51% growth for #Parmanu on Day 2... Biz is likely to be affected today [evening onwards] due to IPL finals... A strong hold on Mon could make up for revenue loss... Fri 4.82 cr, Sat 7.64 cr. Total: ₹ 12.46 cr [1935 screens]. India biz.
बता दें इस फिल्म को कुल 1935 स्क्रीन्स पर रिलीज किया गया है.
देखना होगा फिल्म संडे को कितनी कमाई करती है क्योंकि CSK और SRH के बीच धमाकेदार आईपीएल मैच होने वाला है.
स्पॉटबॉय के एडिटर विक्की लालवानी ने जॉन की इस फिल्म को 2.5 स्टार दिए हैं. जॉन, बमन ईरानी और योगेन्द्र टिकू ने शानदार काम किया है जबकि बाकि कलाकार अपनी मौजूदगी दर्ज कराने में कामयाब नहीं हो पाए.