जॉन अब्राहम की फिल्म 'परमाणु' ने पहले दिन कमाए इतने करोड़ रुपए
एक लंबे समय से रिलीज के लिए तैयार खड़ी जॉन अब्राहम की फिल्म 'परमाणु: द स्टोरी ऑफ पोखरण' काफी विवादों के बाद बीते शुक्रवार को सिनेमाघरों में रिलीज हो गई.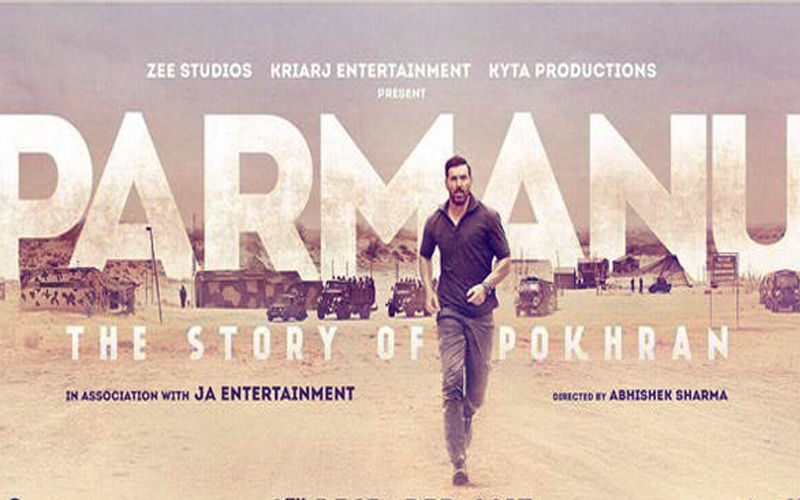 एक लंबे समय से रिलीज के लिए तैयार खड़ी जॉन अब्राहम की फिल्म 'परमाणु: द स्टोरी ऑफ पोखरण', काफी विवादों के बाद बीते शुक्रवार को सिनेमाघरों में रिलीज हो गई. इस फिल्म से जॉन भी काफी वक्त बाद बड़े पर्दे पर वापस आए. जॉन की इस फिल्म को क्रिटिक्स से ठीक-ठाक रिस्पांस मिला है. लेकिन दर्शक इस फिल्म को कितना पसंद करेंगे इस पर सभी की निगाहें लगी हुई थी. ऐसे में फिल्म के पहले दिन की कमाई का आंकड़ा सामने आ चुका है.
ट्रेड एनालिस्ट तरण आदर्श ने फिल्म की पहले दिन की कमाई के आंकड़े शेयर किए हैं. तरण आदर्श के मुताबिक कम प्रमोशन और आईपीएल के शोर के बीच फिल्म ने पहले दिन 4.82 करोड़ का कारोबार किया. शनिवार और रविवार को इसके कलेक्शन के बढ़ने की उम्मीद हैं. बता दें इस फिल्म को कुल 1935 स्क्रीन्स पर रिलीज किया गया है.
Limited promotions and IPL semi-final hits the biz of #Parmanu on Day 1... Yet, the wonderful word of mouth should help recover lost ground on Sat and Sun... Fri ₹ 4.82 cr [1935 screens]. India biz.

— taran adarsh (@taran_adarsh) May 26, 2018
स्पॉटबॉय के एडिटर विक्की लालवानी ने जॉन की इस फिल्म को 2.5 स्टार दिए हैं. जॉन, बमन ईरानी और योगेन्द्र टिकू ने शानदार काम किया है जबकि बाकि कलाकार अपनी मौजूदगी दर्ज कराने में कामयाब नहीं हो पाए.