Box Office Report: टाइगर श्रॉफ और दिशा पटानी की फिल्म 'बागी 2' के पहले दिन की कमाई जान हैरान रह जाएंगे आप
टाइगर श्रॉफ और दिशा पटानी की फिल्म 'बागी 2' का इंतज़ार फैन्स को बेसब्री से था. फिल्म के ट्रेलर रिलीज़ के बाद से ही फैन्स इस फिल्म को देखने के लिए बेकरार थे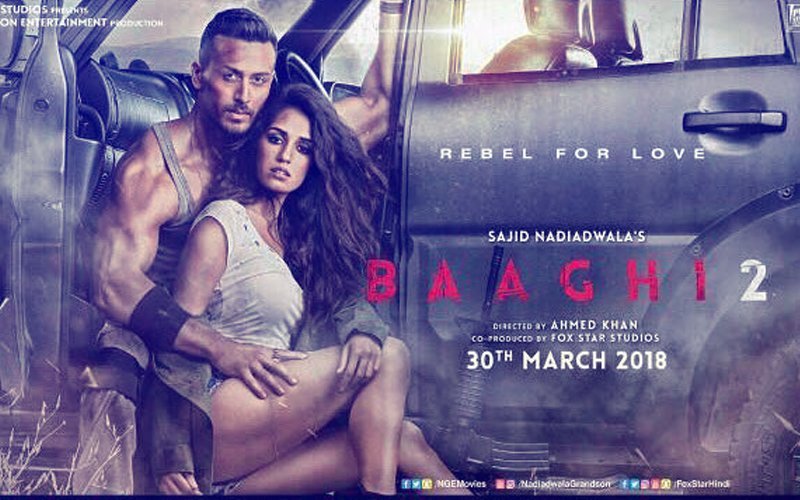 टाइगर श्रॉफ की फैन फॉलोविंग खूब है. बच्चे से लेकर बूढ़े उन्हें पसंद करते हैं. एक्शन सीन करना हो या डांस, टाइगर को इस मामले में कोई नहीं पछाड़ सकता. दूसरी तरफ दिशा पटानी की एक मुस्कुराहट पर लाखों दीवाने अपना सब कुछ न्योछावर करने को तैयार हो जाते हैं. ऐसे में दोनों का साथ आना फैन्स के लिए किसी ट्रीट से कम नहीं है. दिलचस्प बात ये है कि दोनों असल ज़िन्दगी में भी एक दूसरे को डेट कर रहे हैं.
टाइगर श्रॉफ और दिशा पटानी की फिल्म 'बागी 2' का इंतज़ार फैन्स को बेसब्री से था. फिल्म के ट्रेलर रिलीज़ के बाद से ही फैन्स इस फिल्म को देखने के लिए बेकरार थे. फैन्स इस रियल लाइफ कपल को भी फिल्म में एक साथ देखने के लिए बेताब थे. ऐसे में जब फिल्म रिलीज़ हुई तो लोग खुद को रोक नहीं पाए. और रिलीज़ के दिन ही ज्यादा से ज्यादा लोग फिल्म देखने पहुंचे.
टाइगर श्रॉफ और दिशा पटानी की फिल्म 'बागी 2' शुक्रवार यानी 30 मार्च को रिलीज़ हुई. फिल्म के पहले दिन की बॉक्स ऑफिस कलेक्शन रिपोर्ट आ चुकी है. फिल्म की पहले दिन की कमाई जानकार बड़े-बड़ों के होश उड़ जाएंगे. जी हां, बागी 2 ने पहले दिन यानी शुक्रवार को 25.10 करोड़ का बिजनेस किया.
ट्रेड एनालिस्ट तरण आदर्श ने ट्विटर पर फिल्म के बॉक्स ऑफिस रिपोर्ट की खबर को शेयर किया.
#Baaghi2 sets the BO on 🔥🔥🔥... Takes a FANTABULOUS, EARTH SHATTERING START... Emerges the BIGGEST OPENER of 2018 [so far], surpassing Previews + Day 1 biz of #Padmaavat... Fri ₹ 25.10 cr. India biz... The numbers are an EYE-OPENER!

— taran adarsh (@taran_adarsh) March 31, 2018
स्पॉटबॉय.कॉम के एडिटर विक्की ललवानी ने फिल्म को 3 स्टार दिए.
फिल्म को माउथ पब्लिसिटी के चलते आने वाले दिनों में और भी फाएदा मिलेगा. फिल्म की कमाई में और उछाल आने की उम्मीद है.