फिल्म RAW का दमदार ट्रेलर हुआ रिलीज़, पाकिस्तान से जंग करने को तैयार हैं जॉन अब्राहम
फिल्म का ट्रेलर काफी दमदार है जिसमें जॉन अब्राहम एक RAW एजेंट की भूमिका निभा रहे हैं. वो मिशन के लिए पाकिस्तान जाते हैं और 3 अलग-अलग अवतार में नजर आते हैं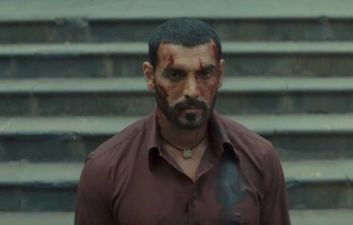 बॉलीवुड में कुछ समय से देशभक्ति फिल्मों का दौर चल रहा है. अक्षय कुमार हो या सलमान खान, आलिया भट्ट हो या जॉन अब्राहम, हर कोई देशभक्ति फिल्मों में काम करना चाह रहा है. इस तरह की फिल्मों को खूब पसंद किया जा रहा है. इसी साल विक्की कौशल की देशभक्ति फिल्म उरी द सर्जिकल स्ट्राइक रिलीज़ हुई थी जिसे खूब पसंद किया गया. कुछ ही दिन में अक्षय कुमार की फिल्म केसरी भी रिलीज़ हो गयी. और अब इस साल फैन्स को एक और दमदार देशभक्ति फिल्म देखने को मिलेगी. हम बात कर रहे हैं जॉन अब्राहम की फिल्म रोमियो अकबर वाल्टर की जिसका ट्रेलर आज रिलीज़ हो चुका है.
फिल्म का ट्रेलर काफी दमदार है जिसमें जॉन अब्राहम एक RAW एजेंट की भूमिका निभा रहे हैं. वो मिशन के लिए पाकिस्तान जाते हैं और 3 अलग-अलग अवतार में नजर आते हैं. फिल्म के दौरान जॉन रोमियो, अकबर और वाल्टर की भूमिका में नजर आएंगे. ये फिल्म सच्ची घटनाओं पर आधारित है और 1971 के दौरान सेट है. उस समय पाकिस्तान और भारत के बीच जंग की तैयारी हो चुकी है.
धर्मो रक्षति रक्षितः

His dharma was to protect his nation against all evils and enemies. Here's presenting the trailer of 'Romeo. Akbar. Walter'. In cinemas on 5th April. #RAWTrailerhttps://t.co/U9k3PpkcON

— John Abraham (@TheJohnAbraham) March 4, 2019
फिल्म में जैकी श्रॉफ और मौनी रॉय भी महत्वपूर्ण भूमिका में हैं. फिल्म को डायरेक्ट किया है रोबी ग्रेवाल ने. फिल्म 5 अप्रैल को रिलीज़ होगी.
They say the best things in life are free! India's favourite music channels 9XM, 9X Jalwa, 9X Jhakaas, 9X Tashan, 9XO are available Free-To-Air. Make a request for these channels from your Cable, DTH or HITS operator.