दूसरे दिन कमाई के मामले मणिकर्णिका और ठाकरे में कौन पड़ा किस पर भारी, जानिए कमाई
कंगना रनौत जहां झांसी की रानी लक्ष्मीबाई के किरदार में नजर आ रही है वहीं नवाजुद्दीन सिद्दीकी शिवसेना संस्थापक बालासाहेब ठाकरे के किरदार में दिखाई दे रहे हैं.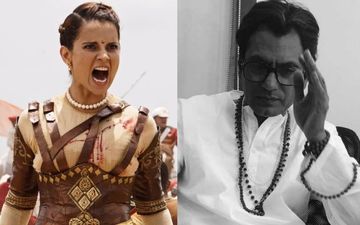 इस शुक्रवार बॉक्स ऑफिस पर दो फिल्में रिलीज हुई है. एक तरफ है कंगना रनौत की मणिकर्णिका तो दूसरी तरफ है नवाजुद्दीन सिद्दीकी की ठाकरे. दोनों ही फिल्मों का अलग-अलग कांसेप्ट है और थीम है यही वजह है कि दोनों ही फिल्मों को दूसरे दिन अच्छा रिस्पांस मिला. कंगना रनौत की फिल्म मणिकर्णिका ने जहां पहले दिन महज 9 करोड़ के करीब का बिजनेस किया वहीं दूसरे दिन बॉक्स ऑफिस पर इसकी कमाई में जबरदस्त उछाल देखने को मिला है. जबकि नवाजुद्दीन की फिल्म ठाकरे ने तो पहले दिन महाराष्ट्र में अच्छा बिजनेस किया है लेकिन महाराष्ट्र ने बाहर कुछ ख़ास नहीं. फिल्म ने पहले दिन 6 करोड़ का बिजनेस किया है.
लेकिन शनिवार के दिन यानी रिपब्लिक डे के मौके पर दोनों फिल्मों के बिजनेस में अच्छा उछाल देखने को मिला है. सबसे पहले बात कंगना रनौत की फिल्म मणिकर्णिका की. इस फिल्म को लेकर दर्शकों में जबरदस्त जोश देखने को मिला. पहले दिन महज 9 करोड़ कमाने वाली फिल्म ने दूसरे दिन दोगुना कमाई के साथ 18 से उपर का बिजनेस किया. जिसके बाद इस फिल्म की कुल कमाई 26.85 करोड़ की हो चुकी है. ट्रेड पंडित तरण आदर्श ने इसकी जानकारी दी.
#Manikarnika sees remarkable growth on Day 2... Strong word of mouth has come into play, while #RepublicDay holiday has given the much-required boost... Day 3 will be in double digits again... Fri 8.75 cr, Sat 18.10 cr. Total: ₹ 26.85 cr. India biz. #Hindi #Tamil #Telugu

— taran adarsh (@taran_adarsh) January 27, 2019
बात अगर नवाजुद्दीन सिद्दीकी की फिल्म ठाकरे की करें हिंदी और मराठी में रिलीज हुई इस फिल्म को महाराष्ट्र में जबरदस्त रिस्पांस मिल रहा हैं. पहले दिन 6 करोड़ कमाने के बाद दूसरे दिन इस फिल्म में भी उछाल देखा गया. मीडिया रिपोर्ट्स के मुताबिक इस फिल्म ने 10 करोड़ कमाए हैं. जिसके बाद इस फिल्म का बिजनेस कुल 16 करोड़ हो चुका है. तरण आदर्श ने इसके कलेक्शन को सामने लाया है.
अब ये दोनों ही फिल्में वीकेंड के आखिरी दिन यानी रविवार को कैसा परफॉर्म करती है. इस पर सभी की निगाहें बनी रहेंगी.
They say the best things in life are free! India's favourite music channels 9XM, 9X Jalwa, 9X Jhakaas, 9X Tashan, 9XO are available Free-To-Air. Make a request for these channels from your Cable, DTH or HITS operator.