बॉक्स ऑफिस पर मित्रों और लव सोनिया से आगे निकली मनमर्जियां, लेकिन कमाए सिर्फ इतने करोड़
इस शुक्रवार तीन फिल्में एक साथ रिलीज हुई लेकीन तीनों फिल्मों को कोई खास सफलता नहीं मिल पायी हैं. तो ऐसे में जानिए दो दिन बाद इन तीनों फिल्मों ने कितने करोड़ कमा लिए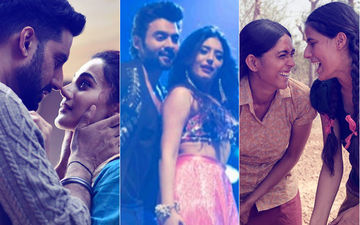 इस शुक्रवार बॉक्स ऑफिस पर रिलीज हुई लेकिन कमाई के मामले में तीनों फिल्में अब तक कमाल नहीं दिखा पायी हैं. पहले दिन सुस्त शुरुआत के बाद दूसरे दिन भी इन 3 फिल्मों ने कोई खास कमाई नहीं की. अनुराग कश्यप की फिल्म मनमर्जियां जिसमें अभिषेक बच्चन, तापसी पन्नू और विक्की कौशल मुख्य भूमिका में हैं उसे क्रिटिक की तरफ से अच्छा रिव्यू मिला लेकिन इसके बावजूद फिल्म को पहले दिन स्लो स्टार्ट मिली. पहले दिन 3.52 करोड़ की कमाई करने के बाद दूसरे दिन इस फिल्म के बिजनेस का ग्राफ उपर चढ़ा. शनिवार को इस फिल्म ने 5.11 करोड़ की कमाई की. जिसके बाद इस फिल्म का कुल बिजनेस 8 करोड़ के उपर रहा.
मनमर्जियां के साथ रिलीज़ हुई ऋचा चड्ढा, मृणाल ठाकुर और फ्रीडा पिंटू की फिल्म लव सोनिया का पहले दिन हाल काफी बुरा रहा इस फिल्म ने महज 25 लाख का बिजनेस किया. जिसके बाद दूसरे दिन भी इस फिल्म के कलेक्शन में बहुत अच्छा सुधार नहीं आया और फिल्म 40 लाख ही कमा पाई.
जैकी भगनानी – कृति कमरा स्टारर मित्रों को भी पहले दिन धीमी शुरुआत ही मिली है. मित्रों ने अपने रिलीज़ के दिन पर 40-50 लाख तक का बिजनेस किया है. वहीं बॉक्स ऑफिस पर इंडिया के मुताबिक इस फिल्म ने दूसरे दिन 70 लाख का बिजनेस किया.
#Manmarziyaan witnesses a healthy 45.17% growth on Day 2, although after a low Day 1, the jump in biz should've been higher... North circuits are performing better... Fri 3.52 cr, Sat 5.11 cr. Total: ₹ 8.63 cr. India biz.

— taran adarsh (@taran_adarsh) September 16, 2018
स्पॉटबॉय.कॉम के एडिटर विक्की ललवानी ने मनमर्जियां को 3.5 स्टार्स दिए. उन्होंने अपने रिव्यू में लिखा, "अनुराग कश्यप केवल डार्क फिल्में बनाते हैं. वो ऐसे किरदार बनाते हैं जो हर दूसरे लाइन में गाली देता है. उनकी फिल्में मुश्किल होती है. उनके आइडियाज कंफ्यूज करते हैं. उनकी फिल्में कमाई नहीं करती. वक़्त है इन सभी धारणाओं को निकाल फेकने की. मनमर्जियां एक ऐसी फिल्म है जिसे दिल और दिमाग दोनों है".
बता दें, जहां एक तरफ मनमर्जियां का बज खूब बना हुआ है वहीं दूसरी तरफ लव सोनिया को कई फिल्म फेस्टिवल में सराहा जा चुका है. बात करें मित्रों की तो इसके गाने खूब पसंद किये गए हैं.
They say the best things in life are free! India's favourite music channels 9XM, 9X Jalwa, 9X Jhakaas, 9X Tashan, 9XO are available Free-To-Air. Make a request for these channels from your Cable, DTH or HITS operator.