रेस 3: बॉक्स ऑफिस के सिकंदर बने सलमान खान, दूसरे दिन फिल्म ने कमाए इतने करोड़
ईद के मौके पर रिलीज हुई सलमान खान की फिल्म रेस 3 का जलवा बॉक्स ऑफिस पर बखूबी दिखाई दे रहा है. पहले दिन 29.17 करोड़ रुपये का बिज़नेस करने वाली इस एक्शन थ्रिलर फिल्म ने दूसरे दिन जबरदस्त कमाई की.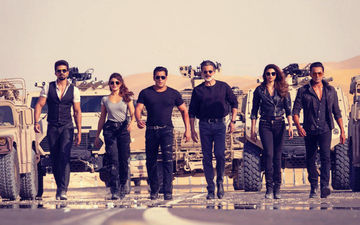 ईद के मौके पर रिलीज हुई सलमान खान की फिल्म रेस 3 का जलवा बॉक्स ऑफिस पर बखूबी दिखाई दे रहा है.
पहले दिन
29.17
करोड़ रुपये का बिज़नेस करने वाली इस एक्शन थ्रिलर फिल्म ने दूसरे दिन जबरदस्त कमाई की. दरअसल शनिवार को पूरे देश में ईद का जश्न मनाया गया. ऐसे में रेस 3 को भी दर्शकों का खूब प्यार मिला. कई सिनेमाघरों पर हाउसफुल का बोर्ड लग गया.
ट्रेड एनालिस्ट तरण आदर्श ने फिल्म के दूसरे दिन की कमाई को अपने ट्विटर हैंडल पर शेयर किया.
तरण आदर्श ट्वीट करते हुए बताया कि पहले दिन के मुकाबले दूसरे दिन कमाई में जबरदस्त उछाल आया हैं. पहले दिन जहां फिल्म ने 29 करोड़ कमाए थे वहीं दूसरे दिन 38 करोड़ से उपर की कमाई की हैं. दो दिन में फिल्म की कुल कमाई 67 करोड़ से उपर की हो चुकी हैं. ऐसे में उम्मीद जताई जा रही है कि रविवार के बाद ये फिल्म 100 करोड़ क्लब में शामिल हो जाएगी.
#Race3 hits the ball out of the park on Day 2 [Sat]... #Eid festivities give MASSIVE BOOST to its biz... Day 3 [Sun] should score BIG NUMBERS yet again... ₹ 100 cr+ weekend on the cards... Fri 29.17 cr, Sat 38.14 cr. Total: ₹ 67.31 cr. India biz.

— taran adarsh (@taran_adarsh) June 17, 2018
ईद के अवसर को चिह्नित करते हुए
,
रेस
3
एक्शन
,
पारिवारिक नाटक
,
सस्पेंस
,
रोमांस और ब्लॉकबस्टर गानों के साथ एक कंपलीट पैकेज साबित होगी.
फ़िल्म में सुपरस्टार सलमान खान
,
जैकलिन फर्नांडीज
,
अनिल कपूर
,
डेज़ी शाह
,
बॉबी देओल और साकिब सलीम जैसे बेहतरीन कलाकार शामिल है.
सलमान खान फिल्म्स और रमेश तौरानी द्वारा निर्मित इस फ़िल्म को टिप्स फिल्म्स के बैनर तहत बनाया जाएगा. रेमो डिसूजा द्वारा निर्देशित 'रेस
3'
बॉक्स ऑफिस पर सफ़लता की ओर अपने कदम बढ़ा रही है.
They say the best things in life are free! India's favourite music channels 9XM, 9X Jalwa, 9X Jhakaas, 9X Tashan, 9XO are available Free-To-Air. Make a request for these channels from your Cable, DTH or HITS operator.