रणवीर सिंह और आलिया भट्ट की फिल्म गली बॉय को अब रोक पाना मुश्किल, दूसरे दिन भी Box Office पर मचाया धमाल
जोया अख्तर के डायरेक्शन में बनी फिल्म गली बॉय बॉक्स ऑफिस पर खूब धमाल मचा रही है. जहां फिल्म ने रिलीज़ के पहले दिन यानी गुरिवार को 19.40 करोड़ का बिजनेस किया वहीं रिलीज़ दिन शुक्रवार को फिल्म की कमाई में गिरावट आई.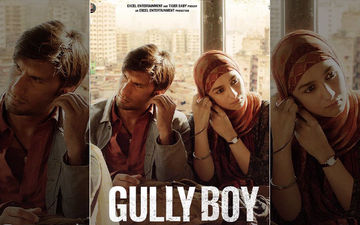 रणवीर सिंह और आलिया भट्ट की फिल्म गली बॉय शुरू से ही चर्चा में बनी हुई है. फिल्म के धमाकेदार ट्रेलर और गानों ने लोगों को फिल्म के खूब उत्साहित किया. फैन्स बेसब्री से फिल्म का इंतज़ार कर रहे थे और आखिरकार ये इंतज़ार वैलेंटाइन डे पर ख़त्म हुआ. 14 फरवरी को फिल्म रिलीज़ हुई जिसे ना केवल क्रिटिक्स की तरफ से सराहना मिली बल्कि ऑडियंस भी जमकर फिल्म की तारीफ कर रही है. फिल्म ने पहले दिन 19.40 करोड़ का बिजनेस किया था और अब फिल्म के दूसरे दिन की बॉक्स ऑफिस रिपोर्ट भी सामने आ गयी है.
जोया अख्तर के डायरेक्शन में बनी फिल्म गली बॉय बॉक्स ऑफिस पर खूब धमाल मचा रही है. जहां फिल्म ने रिलीज़ के पहले दिन यानी गुरिवार को 19.40 करोड़ का बिजनेस किया वहीं रिलीज़ दिन शुक्रवार को फिल्म की कमाई में गिरावट आई. फिल्म ने दूसरे दिन 13.10 करोड़ का बिजनेस किया है. हालांकि ये आंकड़ा कम नहीं है. ट्रेड एनालिस्ट तरण आदर्श ने फिल्म का बॉक्स ऑफिस कलेक्शन ट्विटर पर शेयर किया है. गली बॉय ने 2 दिन में 32.50 करोड़ की कमाई कर ली है. शनिवार और रविवार को फिल्म की कमाई में भारी उछाल आने की उम्मीद है. यह भी पढ़ें: रणवीर सिंह और आलिया भट्ट की फिल्म गली बॉय पर चली सेंसर की कैंची, हटाए कुछ सीन्स
#GullyBoy dips in metros [marginal] and mass circuits/Tier-2 cities [maximum] on Day 2... Day 3 [Sat] and Day 4 [Sun] should witness substantial growth at metros [target audience]... Strong *extended* weekend on cards... Thu 19.40 cr, Fri 13.10 cr. Total: ₹ 32.50 cr. India biz.

— taran adarsh (@taran_adarsh) February 16, 2019
बात करें रणवीर सिंह और आलिया भट्ट की तो यकीनन दोनों का समय काफी अच्छा चल रहा है. पिछले साल रणवीर सिंह की दो फिल्में रिलीज़ हुई- पद्मावत और सिंबा और दोनों फिल्में हिट साबित हुई. साल 2019 की शुरुआत में भी गली बॉय जैसी बेहतरीन फिल्म देकर रणवीर ने साबित कर दिया है कि वो इस दौर के बेस्ट एक्टर हैं. वहीं आलिया भट्ट की पिछली फिल्मों ने कम धमाल नहीं किया है. राजी में उनके काम को खूब सराहा गया और अब गली बॉय के साथ उन्होंने अपनी हिट फिल्मों की लिस्ट में एक और नाम जोड़ लिया है. यह भी पढ़ें: रणवीर सिंह और आलिया भट्ट की फिल्म गली बॉय की स्क्रीनिंग पर पहुंचे रणबीर कपूर और दीपिका पादुकोण: देखिए तस्वीरें
They say the best things in life are free! India's favourite music channels 9XM, 9X Jalwa, 9X Jhakaas, 9X Tashan, 9XO are available Free-To-Air. Make a request for these channels from your Cable, DTH or HITS operator.