वीकेंड के बाद भी सलमान खान की 'रेस 3' का धमाका जारी, कमाई हुई 120 करोड़ के पार
सलमान खान की ईद रिलीज, रेस 3 हिट की राह पर अपने कदम बढ़ा रही है. फ़िल्म की रिलीज दिन के बाद से बड़े पैमाने पर फ़िल्म में वृद्धि देखने मिल रही है.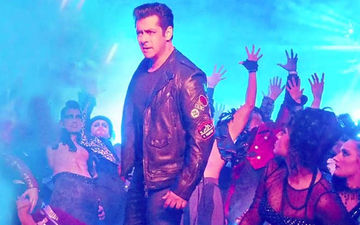 सलमान खान की ईद रिलीज, रेस 3 हिट की राह पर अपने कदम बढ़ा रही है. फ़िल्म की रिलीज दिन के बाद से बड़े पैमाने पर फ़िल्म में वृद्धि देखने मिल रही है. देशभर से दर्शक 'रेस 3' देखने के लिए उमड़ रहे है और एक नॉन-फेस्टिव रिलीज होने के बावजूद शानदार ओपनिंग देखने मिली. फ़िल्म को दर्शकों द्वारा खूब पसंद किया जा रहा है, परिणामस्वरूप हफ्ते का पहला दिन होने के बावजूद 'रेस 3' सोमवार को शानदार 14.24 करोड़ रुपये की कमाई करने में सफल रही, कुल मिलाकर यह फ़िल्म घरेलू बॉक्स ऑफिस पर अब तक 120.71 करोड़ रुपये का बिज़नेस कर चुकी है.
#Race3 puts up a STRONG TOTAL on Mon... Decline on Mon [vis-à-vis Fri: 51.18%]… Mass circuits/single screens are holding very well, while plexes have started sliding downwards... Fri 29.17 cr, Sat 38.14 cr, Sun 39.16 cr, Mon 14.24 cr. Total: ₹ 120.71 cr. India biz.

— taran adarsh (@taran_adarsh) June 19, 2018
'रेस 3' पहले ही वीकेंड में घरेलू बाजार पर 100 करोड़ का आंकड़ा पार करने में सफ़ल रही. इतना ही नहीं, पहले दिन 29.17 करोड़ की कमाई के साथ 'रेस 3' ने 2018 में सबसे बड़ी ओपनिंग का ख़िताब अपने नाम कर लिया है. रिलीज के दूसरे दिन 38.14 करोड़ रुपये की कमाई के साथ कलेक्शन में वृद्धि देखने मिली जिसके बाद तीसरे दिन भी शानदार प्रदर्शन करते हुए फ़िल्म बॉक्स ऑफिस पर 39.16 करोड़ रुपये का कलेक्शन करने में सक्ष्म रही, यानी महज़ तीन दिन में फ़िल्म ने कुल मिलाकर 106.47 करोड़ रुपये का बेहतरीन बिज़नेस कर के Jसफ़लता के झंडे गाड़ दिए है.
फ़िल्म में सुपरस्टार सलमान खान, जैकलिन फर्नांडीज, अनिल कपूर, डेज़ी शाह, बॉबी देओल और साकिब सलीम जैसे बेहतरीन कलाकार शामिल है.सलमान खान फिल्म्स और रमेश तौरानी द्वारा निर्मित इस फ़िल्म को टिप्स फिल्म्स के बैनर तहत बनाया जाएगा. रेमो डिसूजा द्वारा निर्देशित "रेस 3" बॉक्स ऑफिस पर सफ़लता की ओर अपने कदम बढ़ा रही है.
They say the best things in life are free! India's favourite music channels 9XM, 9X Jalwa, 9X Jhakaas, 9X Tashan, 9XO are available Free-To-Air. Make a request for these channels from your Cable, DTH or HITS operator.