रणबीर कपूर की फिल्म 'संजू' ने रचा इतिहास, तीन दिनों में की अद्भुत 120.06 करोड़ रुपये की कमाई!
साल 2018 में पहले दिन सबसे ज़्यादा कमाई करने से ले कर, हिंदी फ़िल्म के लिए रविवार के दिन सबसे अधिक कमाई दर्ज करने तक, संजू ने घरेलू बॉक्स ऑफिस पर सभी रिकॉर्ड तोड़ कर सनसनी मचा दी है.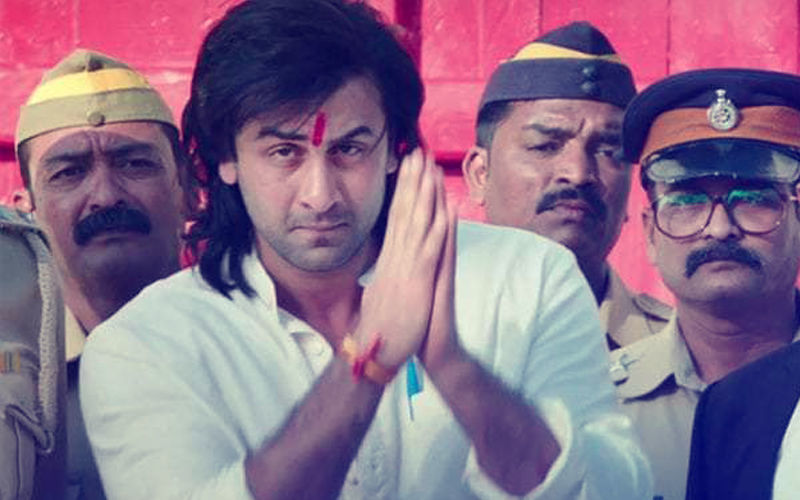 निर्देशक राजकुमार हिरानी की संजू ने तीसरे दिन 47.71 करोड़ रुपये की कमाई के साथ इतिहास रच दिया है. इसी के साथ फ़िल्म ने 100 करोड़ क्लब में एंट्री ले कर, तीन दिनों में बॉक्स ऑफिस पर कुल मिलाकर 120.06 करोड़ रुपये की कमाई के साथ सफ़लता का स्वाद चख लिया है. साल 2018 में पहले दिन सबसे ज़्यादा कमाई करने से ले कर, हिंदी फ़िल्म के लिए रविवार के दिन सबसे अधिक कमाई दर्ज करने तक, संजू ने घरेलू बॉक्स ऑफिस पर सभी रिकॉर्ड तोड़ कर सनसनी मचा दी है.
'संजू को विश्वभर में दर्शकों से प्रेम और प्रशंसा प्राप्त हो रही है और ये ही वजह है फ़िल्म महज़ तीन दिनों में बॉक्स ऑफिस पर रिकॉर्ड तोड़ कमाई करने में सक्ष्म रही है.
#Sanju sets the BO on 🔥🔥🔥... Gets #JaaduKiJhappi from the audience... Collects ₹ 46.71 cr on Sun, MIND-BOGGLING... Has an EXCEPTIONAL ₹ 💯 cr+ opng weekend... Emerges HIGHEST OPENING WEEKEND of 2018... Fri 34.75 cr, Sat 38.60 cr, Sun 46.71 cr. Total: ₹ 120.06 cr. India biz.

— taran adarsh (@taran_adarsh) July 2, 2018
संजय दत्त की रंगीन जीवनी पर फिल्म बनाने के फ़ैसले और राजकुमार हिरानी की उम्दा सिनेमेटोग्राफी के चलते, फिल्म को भारी प्रतिक्रिया प्राप्त हो रही है, जो राजकुमार हिरानी की भी सर्वोच्च फ़िल्म हैं.
राजकुमार हिरानी द्वारा लिखित और निर्देशित यह बायोपिक रणबीर कपूर, मनीषा कोइराला, परेश रावल, अनुष्का शर्मा, दीया मिर्जा और सोनम कपूर जैसे कलाकारों से लैस है. फॉक्स स्टार द्वारा प्रस्तुत, यह बायोपिक राजकुमार हिरानी द्वारा निर्देशित है. विधु विनोद चोपड़ा और राजकुमार हिरानी द्वारा निर्मित 'संजू' बॉक्स ऑफिस पर धूम मचा रही है.