Zero Box Office Collection Day 1: शाहरुख खान, अनुष्का शर्मा और कैटरीना कैफ की फिल्म ने किया धमाल, कमाई हुई छप्परफाड़
फिल्म के ट्रेलर और गानों को खूब पसंद किया गया और फैन्स बेसब्री से फिल्म रिलीज़ का इंतज़ार कर रहे थे. फिल्म में शाहरुख़ पहली बार बौने बने हुए और फैन्स उनका ये नया रूप बड़े परदे पर देखने के लिए बेहद उत्साहित थे.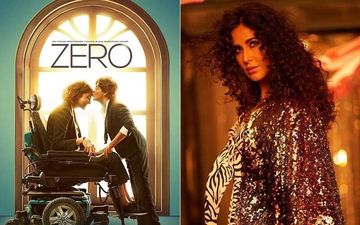 बॉलीवुड के बादशाह शाहरुख़ खान अपनी फिल्म जीरो के चलते खूब चर्चा में बने हुए हैं. फिल्म के ट्रेलर और गानों को खूब पसंद किया गया और फैन्स बेसब्री से फिल्म रिलीज़ का इंतज़ार कर रहे थे. फिल्म में शाहरुख़ पहली बार बौने बने हुए और फैन्स उनका ये नया रूप बड़े परदे पर देखने के लिए बेहद उत्साहित थे.
शाहरुख खान, कैटरीना कैफ और अनुष्का शर्मा अभिनीत आनंद एल राय की फिल्म जीरो रिलीज के पहले दिन में 20.14 करोड़ की कमाई कर चुकी है. इस सप्ताहांत बॉक्स ऑफिस कलेक्शन में बढ़ोतरी की उम्मीद है और फ़िल्म क्रिसमस की छुट्टी का आनंद लेने के लिए पूरी तरह से तैयार है.शनिवार के शुरुआती घंटों में जीरो के पहले दिन का कलेक्शन सामने आया है. जीरो को सिंगल स्क्रीन्स से सकारात्मक प्रतिक्रिया प्राप्त हो रही है, जिसके चलते सिनेमाघरों में दर्शकों की भारी भीड़ देखने मिल रही है.
#Zero has underperformed on Day 1, despite extensive release [4380 screens] + #Christmas vacations... Sat and Sun biz extremely crucial... Fri ₹ 20.14 cr. India biz.

— taran adarsh (@taran_adarsh) December 22, 2018
'जीरो' में शाहरुख खान एक छोटे कद के व्यक्ति बउआ की भूमिका निभा रहे है. मेरठ की पृष्ठभूमि पर आधारित, 'जीरो' में एक अनूठी और साथ ही दिल छू लेने वाली कहानी प्रस्तुत की गई है.
शाहरुख खान, कैटरीना कैफ और अनुष्का शर्मा की सुपर हिट तिकड़ी की वापसी के साथ, 'जीरो' एक अपरंपरागत कहानी के साथ दिलचस्प प्रदर्शन प्रस्तुत करती है. रेड चिलीज़ एंटरटेनमेंट और कलर येलो प्रोडक्शन्स की फ़िल्म 'जीरो' गौरी खान द्वारा निर्मित है. अनुष्का शर्मा, कटरीना कैफ़ और शाहरुख खान द्वारा अभिनीत 'जीरो' 21 दिसंबर 2018 को रिलीज हो चुकी है.
They say the best things in life are free! India's favourite music channels 9XM, 9X Jalwa, 9X Jhakaas, 9X Tashan, 9XO are available Free-To-Air. Make a request for these channels from your Cable, DTH or HITS operator.