सूरमा बॉक्स ऑफिस कलेक्शन: दिलजीत दोसांझ और तापसी पन्नू स्टारर फिल्म ने पहले दिन की 3.25 करोड़ की कमाई
फिल्म को क्रिटिक्स की तरफ से अच्छा रिव्यू मिला और ऑडियंस को भी फिल्म पसंद आ रही है और अब फिल्म के पहले दिन का बॉक्स ऑफिस रिपोर्ट भी सामने आ चुका है.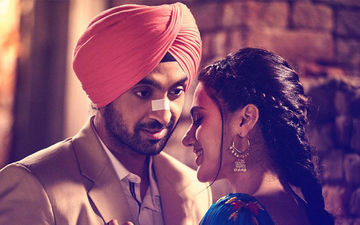 दिलजीत दोसांझ और तापसी पन्नू स्टारर फिल्म 'सूरमा' खूब चर्चा में बनी हुई थी. फिल्म का ट्रेलर और गाने काफी पसंद किये गए और आखिरकार अब फिल्म रिलीज़ हो चुकी है. फिल्म को क्रिटिक्स की तरफ से अच्छा रिव्यू मिला और ऑडियंस को भी फिल्म पसंद आ रही है और अब फिल्म के पहले दिन का बॉक्स ऑफिस रिपोर्ट भी सामने आ चुका है.

फिल्म ने पहले दिन 3.25 करोड़ का एवरेज बिजनेस किया है. ट्रेड ने अनुमान लगाया है कि फिल्म वीकेंड पर अच्छी कमाई करेगी. ट्रेड एनालिस्ट तरण आदर्श ने अपने ट्विटर अकाउंट पर फिल्म के पहले दिन के कलेक्शन की जानकारी दी.
After a slow start in morning shows [North India opening was good due to Diljit Dosanjh's stardom], #Soorma gathered momentum from evening onwards... Is looking at substantial growth on Sat and Sun thanks to strong word of mouth... Fri ₹ 3.25 cr. India biz.

— taran adarsh (@taran_adarsh) July 14, 2018
स्पॉटबॉय.कॉम के एडिटर विक्की ललवानी को फिल्म काफी पसंद आई और उन्होंने इसे 3 स्टार दिए. डायरेक्टर शाद अली के काम ने उन्हें इम्प्रेस किया.
बता दें, सूरमा एक असली कहानी से प्रेरित है और निर्देशक शाद अली ने इसे यथासंभव रियल रखने की कोशिश की है. संदीप सिंह को 12 साल पहले गोली मारी गयी थी जब वह ट्रेन से यात्रा कर रहे थे, और इस दुर्भाग्यपूर्ण घटना के बाद हॉकी खिलाड़ी 2 साल तक लकवाग्रस्त थे. लेकिन संदीप का दृढ़ संकल्प और खेल के प्रति प्यार उन्हें नई जिंदगी देने में क़ामयाब रहा,जिसके बाद खिलाड़ी ने हमारे देश के लिए कई पदक जीत कर एक बार फिर हमारा सर गर्व से ऊपर कर दिया था.
'सूरमा' में संदीप सिंह के संघर्ष और हॉकी किंवदंती बनने के उनके सफ़र को वास्तविकता देने के लिए, फ़िल्म को संदीप के होमटाउन शाहबाद में फ़िल्माया गया है. यह एक कम ज्ञात तथ्य है कि संदीप को दुनिया का सबसे खतरनाक ड्रैग-फ्लिकर में से एक माना जाता है, जिनकी ड्रैग की स्पीड145 km/hr है और उनकी इस शानदार स्पीड के चलते उन्हें "फ्लिकर सिंह" के नाम से जाना जाता है.
शाद अली द्वारा निर्देशित फिल्म में दिलजीत दोसांझ के साथ तापसी पन्नू और अंगद बेदी मुख्य भूमिका में हैं.
They say the best things in life are free! India's favourite music channels 9XM, 9X Jalwa, 9X Jhakaas, 9X Tashan, 9XO are available Free-To-Air. Make a request for these channels from your Cable, DTH or HITS operator.