पहले वीकेंड में सूरमा ने कमा लिए इतने करोड़, मेकर्स हुए खुश
शुक्रवार और शनिवार के मुकाबले रविवार को फिल्म सूरमा ने बॉक्स ऑफिस पर शानदार कमाई की. रविवार को हुई फिल्म की इस कमाई के आंकड़े को देखकर हर कोई खुश है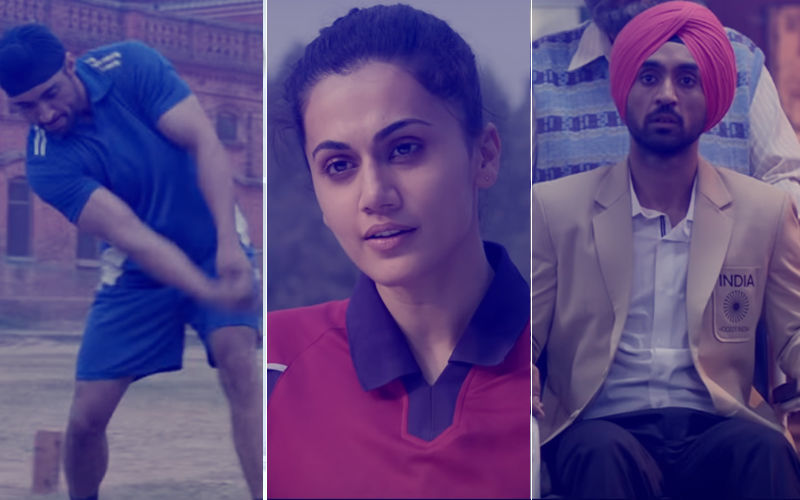 दर्शकों से मिल रही सकारात्मक प्रतिक्रिया के कारण, अपने पहले वीकेंड में "सूरमा" बॉक्स ऑफिस पर कुल मिलाकर 13.90 करोड़ रुपये का बिज़नेस करने में सफ़ल रही. भारी बारिश और फुटबॉल के विश्व कप फिनाले के बावजूद, सूरमा रविवार के दिन 5.60 करोड़ का कलेक्शन करने में सक्ष्म रही, जबकि शनिवार के दिन 5.05 करोड़ रुपये और अपनी रिलीज के दिन "सूरमा" 3.25 करोड़ रुपये का बिज़नेस में क़ामयाब साबित हुई थी. हॉकी खिलाड़ी संदीप सिंह की जीवनी पर आधारित, "सूरमा" दर्शकों और आलोचकों के बीच प्यार और प्रशंसा पात्र बनी हुई है. यही वजह है कि सिनेमाघरों में बच्चों और परिवारों की बड़ी संख्या में भीड़ देखने मिल रही है.
इस फिल्म को
पाकिस्तानी सेंसर बोर्ड और कुवैत सेंसर बोर्ड से भी मंजूरी दे दी गयी है.
"
सूरमा" एक खिलाड़ी की प्रेरणादायक सत्य कहानी है
,
जिसने दुर्भाग्यपूर्ण दुर्घटना के बाद अपनी चमत्कारी वापसी से सुर्खियां का ध्यान अपना आकर्षित कर
,
अपनी दमदार वापसी से हर किसी को हैरान कर दिया था.
फ़िल्म को बॉलीवुड हस्तियों और आलोचकों से भी शानदार प्रतिक्रिया प्राप्त हो रही है.
#Soorma has decent weekend... Considering the low start on Fri morning, the biz did escalate over the weekend, but the jump on Sun wasn't substantial enough... Maintaining the pace on weekdays is important... Fri 3.20 cr, Sat 5.05 cr, Sun 5.60 cr. Total: ₹ 13.85 cr. India biz.

— taran adarsh (@taran_adarsh) July 16, 2018
यह एक कम ज्ञात तथ्य है कि संदीप को दुनिया का सबसे खतरनाक ड्रैग-फ्लिकर में से एक माना जाता है
,
जिनकी ड्रैग की स्पीड
145 km/hr
है और उनकी इस शानदार स्पीड के चलते उन्हें "फ्लिकर सिंह" के नाम से जाना जाता है.
संदीप सिंह की प्रेरणादायक कहानी ने निर्माताओं को इसे बड़े पर्दे पर लाने के लिए मजबूर कर दिया.
शाद अली द्वारा निर्देशित फिल्म में दिलजीत दोसांझ के साथ तापसी पन्नू और अंगद बेदी मुख्य भूमिका में नज़र आ रहे है.
"
सूरमा" सोनी पिक्चर्स नेटवर्क प्रोडक्शंस
,
चित्रांगदा सिंह और दीपक सिंह द्वारा निर्मित है. शाद अली द्वारा निर्देशित
13
जुलाई
, 2018
को रिलीज हुई "सूरमा" सकारात्मक प्रतिक्रिया के साथ बॉक्स ऑफिस पर धूम मचा रही है.