Thugs Of Hindostan Box Office Collection: कमाई के मामले में सरताज बनी आमिर खान और अमिताभ बच्चन की फिल्म
पहली बार एक साथ फिल्म में काम करने वाली आमिर खान और अमिताभ बच्चन की फिल्म ने बॉक्स ऑफिस पर बनाया रिकॉर्ड, पहले दिन कमाई के सारे रिकॉर्ड टूटे की फिल्म ठग्स ऑफ़ हिंदोस्तान के पहले दिन का कलेक्शन सामने आ चुका हैं.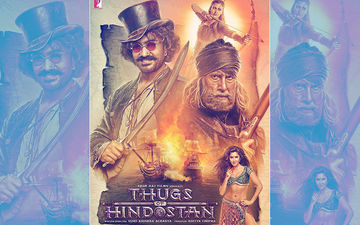 आमिर खान और अमिताभ बच्चन की मच अवेटेड फिल्म ठग्स ऑफ़ हिंदोस्तान रिलीज हो चुकी है. हालांकि इस फिल्म को क्रिटिक्स से अच्छा रिव्यू तो नहीं मिला लेकिन दर्शकों को ये फिल्म बेहद ही पसंद आ रही हैं. यही वजह है कि बॉक्स ऑफिस पर कमाई के मामले में इस फिल्म ने सारे रिकॉर्ड तोड़ दिए हैं. ये पहली हिंदी फिल्म बन गई है जिसने पहले दिन 52.25 करोड़ का बिजनेस किया हैं. अब फिल्म की इस कमाई के पीछे कई वजहों को माना जा सकता है. क्या दिवाली छुट्टी के कारण फिल्म ने इतना बिजनेस किया या फिर बॉक्स ऑफिस पर दूसरी की किसी फिल्म की तरफ से मुकाबला ना होने कारण. वजह चाहे जो भी हो लेकिन फिल्म ने पहले दिन ये भारी भरकम कमाई कर सारे बॉक्स ऑफिस पर एक नया रिकॉर्ड तो जरूर बना दिया हैं.
फिल्मों की बात करे सबसे ज्यादा कमाई का पिछला रिकॉर्ड प्रेम रतन धन पायो के नाम था जिसने 39.32 करोड़ रुपये कमाए थे. तो वहीं बाहुबली - द कॉनकलुझन के हिंदी वर्जन ने पहले दिन 40.73 करोड़ रुपये बिजनेस किया था. लेकिन ठग्स ऑफ़ हिंदोस्तान ने सारे रिकॉर्ड ध्वस्त कर डाले. ट्रेड एनालिस्ट तरण आदर्श ने ट्वीट करके फिल्म की इस कमाई के रिकॉर्ड को सामने लाया हैं.
#ThugsOfHindostan smashes *all records* [Hindi films] as it breaches ₹ 50 cr on *Day 1*... Sets new BENCHMARKS in some circuits... Big holiday [#Diwali] + tremendous hype + massive screen count help put up a SENSATIONAL TOTAL...

— taran adarsh (@taran_adarsh) November 9, 2018
"ठग्स ऑफ हिंदुस्तान" में कैटरीना कैफ और फातिमा सना शेख भी मुख्य भूमिकाओं में नज़र आ रही है.
वाईआरएफ की मेगा एक्शन फ़िल्म "ठग्स ऑफ हिंदुस्तान" 8 नवंबर यानी राष्ट्रीय अवकाश के अवसर पर हिंदी, तमिल और तेलुगू में रिलीज हुई हैं.
स्पॉटबॉय एडिटर विक्की लालवानी ने इस फिल्म को 2.5 स्टार्स दिए हैं. फिल्म के डायरेक्टर विजय कृष्ण आचार्य इसे सही ढंग से तराश नहीं पाए है. यही वजह है कि फिल्म को कम स्टार्स मिले हैं. हालांकि कई ट्रेड पंडितों ने इस फिल्म के पूरे वीकेंड के कलेक्शन के 150 करोड़ से अधिक जाने की उम्मीद जताई हैं.
They say the best things in life are free! India's favourite music channels 9XM, 9X Jalwa, 9X Jhakaas, 9X Tashan, 9XO are available Free-To-Air. Make a request for these channels from your Cable, DTH or HITS operator.