विक्की कौशल का उरी से बड़ा धमाका, 200 करोड़ क्लब में शामिल हुई फिल्म
विक्की कौशल की फिल्म उरी ने अपने चौथे हफ्ते के साथ ही 200 करोड़ क्लब में शामिल हो चुकी है. इस रिकॉर्ड के साथ ही विक्की कौशल ने भी अपने नाम एक रिकॉर्ड दर्ज कर लिया है.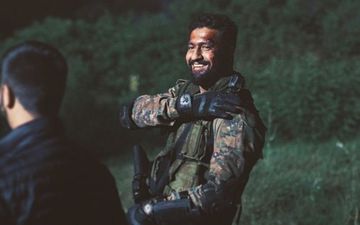 12 जनवरी को सिनेमाघरों में रिलीज हुई विक्की कौशल की फिल्म उरी: द सर्जिकल स्ट्राइक को लेकर दर्शकों का जोश नीचे आने का नाम नहीं ले रहा है. इसी कारण अब फिल्म के नाम एक बड़ी कामयाबी जुड़ गई है. 100 करोड़ के बाद ये फिल्म 200 करोड़ क्लब में शामिल हो चुकी है. पिछले कई हफ्तों से बॉक्स ऑफिस पर इस फिल्म का ही दबदबा चल रहा हैं. जबकि इसके बाद रिलीज हुई फिल्में आई और चली गई. लेकिन उरी का दम कायम हैं. यही वजह है कि उरी साल 2019 की पहली 200 करोड़ क्लब में शामिल होनेवाली फिल्म बन चुकी हैं.
ट्रेड एनालिस्ट तरण आदर्श ने बताया है कि अपने चौथे हफ्ते के खत्म होने के साथ ही ये उरी 200 करोड़ क्लब में शामिल हो चुकी है. पहले हफ्ते में 71.26 करोड़ कमाए जबकि दूसरे हफ्ते में इसकी कमाई 62.77 करोड़ की रही. तीसरे हफ्ते में इसका कलेक्शन 37.02 करोड़ और चौथे हफ्ते में इसने 29.02 करोड़ की कमाई की. फिल्म की लगातार इस धाकड़ कमाई के चलते फिल्म 200 करोड़ का आंकड़ा क्रॉस कर लिया है. यह भी पढ़ें: इस दमदार हॉलीवुड फिल्म की इंडियन वर्शन है विक्की कौशल की फिल्म उरी
#UriTheSurgicalStrike hits double century... 💯+💯... Has ample stamina and showcasing [at plexes] to cross ₹ 225 cr... [Week 4] Fri 3.44 cr, Sat 6.62 cr, Sun 8.88 cr, Mon 2.86 cr, Tue 2.63 cr, Wed 2.40 cr, Thu 2.19 cr. Total: ₹ 200.07 cr. India biz. #Uri #HowsTheJosh

— taran adarsh (@taran_adarsh) February 8, 2019
आपको बता दे कि उरी के साथ ही विक्की कौशल के नाम भी बड़ी कामयाबी जुड़ गई है. इस ड्रीम क्लब में शामिल होनेवाले वो सबसे यंग एक्टर बन गए हैं. विक्की ने ये कारनामा महज 30 साल की उम्र में ही कर दिखाया है. इससे पहले भी रणबीर कपूर और विक्की कौशल की फिल्म संजू इस क्लब में शामिल हो चुकी हैं. लेकिन उरी सही मायने में विक्की कौशल की फिल्म है. यह भी पढ़ें: विक्की कौशल के फैन बने दिग्गज एक्टर अनुपम खेर, कहा- 'कलाकारों की दुनिया' में स्वागत है
They say the best things in life are free! India's favourite music channels 9XM, 9X Jalwa, 9X Jhakaas, 9X Tashan, 9XO are available Free-To-Air. Make a request for these channels from your Cable, DTH or HITS operator.