Zero box office collection Day 2: दूसरे दिन शाहरुख खान की फिल्म को हो गया नुकसान, जानिए कमाई
क्रिसमस से पहले अपने फैंस को क्रिसमस का तोहफा देने आए बॉलीवुड के बादशाह शाहरुख़ खान की फिल्म को लेकर काफी चर्चा रही थी. लेकिन दूसरे दिन की कमाई में गिरावट दर्ज की गई है.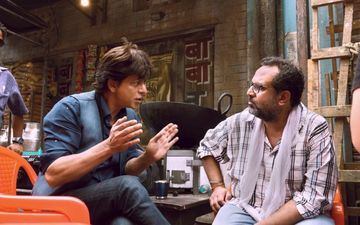 क्रिसमस से पहले अपने फैंस को क्रिसमस का तोहफा देने आए बॉलीवुड के बादशाह शाहरुख़ खान की फिल्म को लेकर काफी चर्चा रही. जिसका नतीजा रहा कि फिल्म ने पहले दिन 20 करोड़ से अधिक की कमाई भी कर ली. लेकिन शाहरुख़ खान की इस फिल्म को क्रिटिक्स से मिला-जुला रिव्यू मिला है. मतलब जैसी फिल्म की उम्मीद की जा रही थी. शाहरुख़ की ये फिल्म उतनी धमाकेदार नहीं हैं. यही वजह रही कि पहले दिन के बाद दूसरे दिन फिल्म के बिजनेस में उछाल आने की बजाए गिरावट देखी जा रही हैं. पहले दिन के मुकाबले दूसरे दिन का बिजनेस 10 प्रतिशत के करीब गिरावट देखने को मिली.
ट्रेड पंडित तरण आदर्श ने फिल्म जीरो के दूसरे दिन की कमाई का पूरा आंकड़ा सामने रखा हैं. उनके ट्वीट के मुताबिक पहले दिन के मुकाबले दूसरे दिन फिल्म की कमाई 9.53 प्रतिशत की गिरावट दर्ज की गयी है. पहले दिन 20.14 करोड़ की कमाई करने वाली इस फिल्म ने दूसरे दिन महज 18.22 करोड़ ही कमाए. जिसके बाद फिल्म का कुल बिजनेस अब 38.36 करोड़ कमा लिए हैं.
#Zero slips on Day 2... Biz should've witnessed solid growth on Day 2 after an underwhelming Day 1, but is struggling at the BO... Decline on Day 2 [vis-à-vis Day 1]: 9.53%... Fri 20.14 cr, Sat 18.22 cr. Total: ₹ 38.36 cr. India biz.

— taran adarsh (@taran_adarsh) December 23, 2018
'जीरो' में शाहरुख खान एक छोटे कद के व्यक्ति बउआ की भूमिका निभा रहे है. मेरठ की पृष्ठभूमि पर आधारित, 'जीरो' में एक अनूठी और साथ ही दिल छू लेने वाली कहानी प्रस्तुत की गई है.
शाहरुख खान, कैटरीना कैफ और अनुष्का शर्मा की सुपर हिट तिकड़ी की वापसी के साथ, 'जीरो' एक अपरंपरागत कहानी के साथ दिलचस्प प्रदर्शन प्रस्तुत करती है. रेड चिलीज़ एंटरटेनमेंट और कलर येलो प्रोडक्शन्स की फ़िल्म 'जीरो' गौरी खान द्वारा निर्मित है. अनुष्का शर्मा, कटरीना कैफ़ और शाहरुख खान द्वारा अभिनीत 'जीरो' 21 दिसंबर 2018 को रिलीज हो चुकी है.
तस्वीर: स्पाइस भाषा

They say the best things in life are free! India's favourite music channels 9XM, 9X Jalwa, 9X Jhakaas, 9X Tashan, 9XO are available Free-To-Air. Make a request for these channels from your Cable, DTH or HITS operator.