बॉलीवुड एक्ट्रेस कीर्ति सेनन की सुबह आज काफी हैरान कर देने वाली रही. क्योंकि किसी ने उनका इंस्टाग्राम अकाउंट हैक कर लिया और उनके फैंस को दूसरा पेज फ़ॉलो करने की सलाह देने लगा. जी कुछ ऐसा ही हुआ जब कीर्ति ने देखा कि उनका इंस्टाग्राम हैक है और लॉग आउट हो चुकी है. हालंकि हैकर कुछ गलत करता उससे पहले ही कीर्ति ने सही कदम उठाते हुए अपनी बहन के अकाउंट से फैंस को बता दिया कि उनका अकाउंट हैक हो चुका है.
कीर्ति ने बहन नुपुर सेनन के इंस्टाग्राम अकाउंट से फैंस को बताया की उनका अकाउंट हैक हो गया है.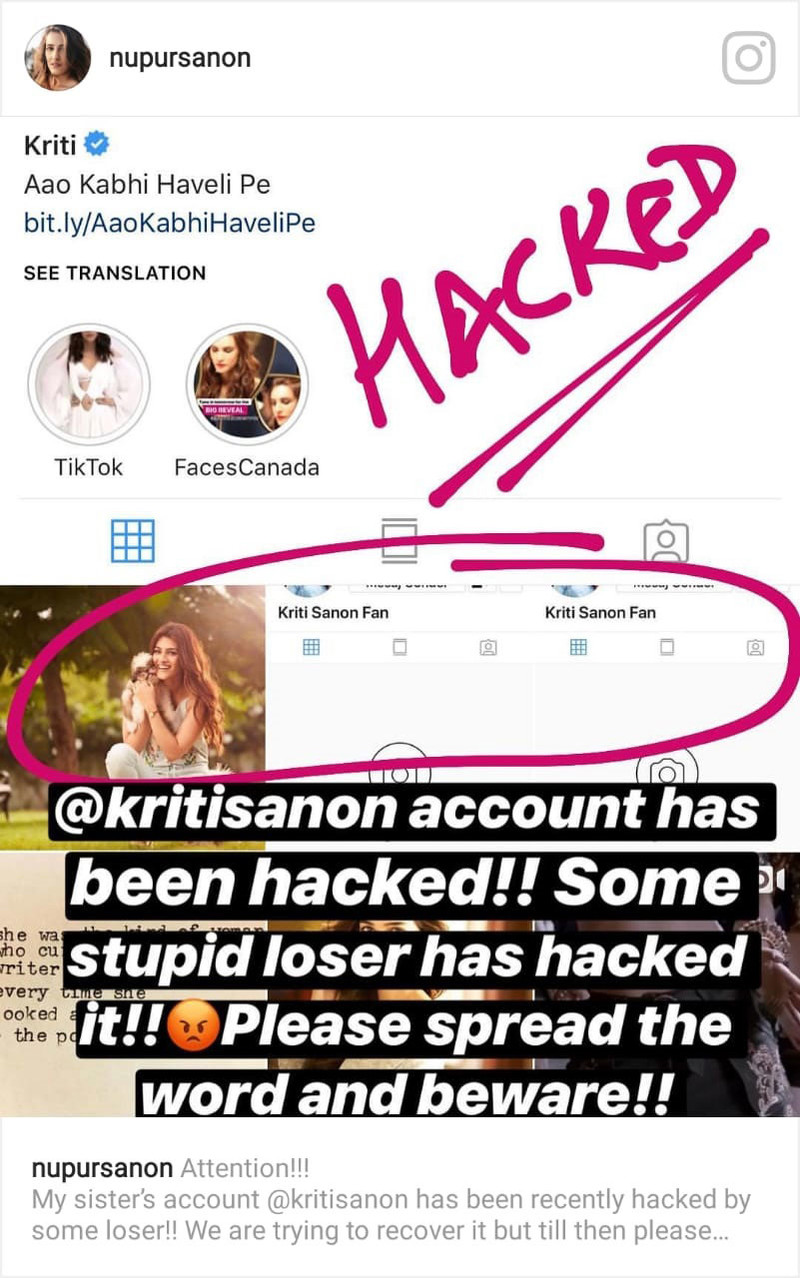 इसके साथ कीर्ति ने अपने ट्विटर अकाउंट पर भी फैंस से ऐसे रिक्वेस्ट की. उन्होंने लिखा 'मेरा अकाउंट हैक हो चुका है. प्लीज कोई भी जवाब ना दे.'
हालांकि कुछ देर बाद कीर्ति का अकाउंट रिकवर कर लिया गया. जिसके बाद कीर्ति ने पोस्ट करके फैंस को इसके बारे जानकारी दी.
Ok my instagram is back!! A biggg thank you to Freyan, Nikita and Varun Katoch who helped me and got it back so soon! ♥️♥️ 🤗🤗

— Kriti Sanon (@kritisanon) September 3, 2018
इससे कुछ दिन पहले एक्टर अरशद वारसी का भी ट्विटर अकाउंट हैक कर लिया गया था. जिसकी जानकारी उन्होंने खुद फैंस को दी थी.