उत्तर प्रदेश के किसानों की मदद करने के बाद अब अमिताभ बच्चन ने बीएमसी कर्मचारियों को दिया गिफ्ट
उत्तरप्रदेश के किसानों के कर्ज चुकाने में मदद करने वाले महानायक अमिताभ बच्चन ने बीएमसी को 25 छोटी मशीनें और एक ट्रक गिफ्ट में दिया है. जिसकी जानकारी महानायक ने अपने ट्विटर हैंडल के जरिए दी.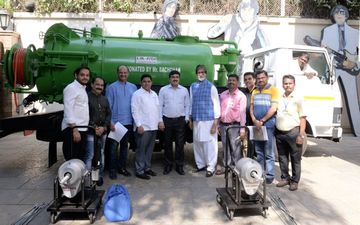 हाल ही में उत्तरप्रदेश के किसानों के कर्ज चुकाने में मदद करने वाले महानायक अमिताभ बच्चन ने बीएमसी को 25 छोटी मशीनें और एक ट्रक गिफ्ट में दिया है. जिसकी जानकारी महानायक ने अपने ट्विटर हैंडल के जरिए दी. अमिताभ ने रविवार को ट्वीट कर कहा, " हाथों से सफाई करने वाले कर्मियों की अमानवीय स्थिति को देखते हुए मैंने उनके लिए 50 मशीनें खरीदने का वादा किया था. आज मैंने उस वादे को पूरा कर दिया है! सफाईकर्मियों को 25 छोटी अलग-अलग मशीनें और बीएमसी को एक बड़ी ट्रक मशीन उपहार में दी है."
24 नवंबर को एक पत्र लिखकर अमिताभ ने मैनुअल स्केवेंजर्स एसोसिएशन (एमएसए) और बृहन्मुंबई नगर निगम (बीएमसी) से कहा था कि वह मेनहोल और सीवर नालों में सफाई के लिए उनमें उतरने वाले सफाईकर्मियों के लिए कुछ करना चाहते हैं.
T 3005 - At the NDTV Cleanathon , 'banega swachch india' , seeing the inhuman plight of the manual scavenger, I had committed to buy 50 machines for them .. today I fulfilled that promise ! 25 small individual machines and one large truck machine gifted to BMC ! pic.twitter.com/6Xn8PFmv3i

— Amitabh Bachchan (@SrBachchan) November 24, 2018
उन्होंने कहा, "मेरा योगदान सफाईकर्मियों को इस अमानवीय कार्य को करने से रोकने और उन्हें समाज में सम्मान और गरिमा दिलाने के लिए है."
अमिताभ ने सफाईकर्मियों के लिए मशीनें खरीदने के लिए 50 लाख रुपये देने का वादा किया था.
अमिताभ ने ट्वीट कर कहा, "मैं बीएमसी को एक बड़ी मशीन और सफाईकर्मियों को छोटी मशीनें दान कर रहा हूं." उन्होंने बीएमसी और एमएसए से मशीनों के सही प्रयोग की निरंतर रिपोर्ट देने का भी आग्रह किया है.
आपको बता दे कि महानायक अमिताभ बच्चन ने कुछ समय पहले महाराष्ट्र के किसानों की कर्ज माफी में भी मदद की थी.
आईएएनएस से इनपुट लेकर
Image Credit: Twitter/Amitabh Bachchan
They say the best things in life are free! India's favourite music channels 9XM, 9X Jalwa, 9X Jhakaas, 9X Tashan, 9XO are available Free-To-Air. Make a request for these channels from your Cable, DTH or HITS operator.