अनिल कपूर ने की प्रधानमंत्री नरेंद्र मोदी से मुलाकात, कहा- मैं उनसे प्रेरित हुआ
मशहूर फिल्म अभिनेता अनिल कपूर ने बुधवार को प्रधानमंत्री नरेंद्र मोदी से मुलाकात की. प्रधानमंत्री से हुई बातचीत से अभिभूत कपूर ने ट्वीट के जरिए इस मुलाकात की जानकारी देते हुए अपनी संवेदना जाहिर की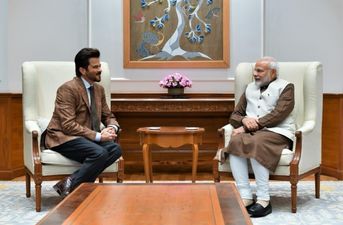 देश के प्रधानमंत्री नरेंद्र मोदी अपने काम के चलते हर फील्ड के लोगों से मिलते रहते हैं. खेल जगत हो या बॉलीवुड इंडस्ट्री, मोदी सबको अपना टाइम देते हैं और देश की प्रगति के लिए इनके सुझाव भी लेते हैं. कई बॉलीवुड स्टार्स को मोदी से मिलते हुए देखा गया है और अब एक्टर अनिल कपूर भी प्रधानमंत्री को मिलने पहुंचे.
मशहूर फिल्म अभिनेता अनिल कपूर ने बुधवार को प्रधानमंत्री नरेंद्र मोदी से मुलाकात की. प्रधानमंत्री से हुई बातचीत से अभिभूत कपूर ने ट्वीट के जरिए इस मुलाकात की जानकारी देते हुए अपनी संवेदना जाहिर की. अनिल कूपर ने मोदी से हुई उनकी मुलाकात की तस्वीर के साथ ट्वीट किया. उन्होंने लिखा- "मुझे आज आदरणीय प्रधानमंत्री मोदीजी से मिलने का अवसर प्राप्त हुआ. मैं उनसे हुई बातचीत से प्रेरित हुआ. उनकी दूरदर्शिता और करिश्मा त्वरित प्रभाव डालने वाला है. मैं उनसे व्यक्तिगत तौर पर मुलाकात का अवसर प्रदान करने के लिए उनका आभारी हूं." यह भी पढ़ें: विक्की कौशल की फिल्म उरी में हैं PM नरेंद्र मोदी, Guess करो किस एक्टर ने निभाया है किरदार!
I had the opportunity to meet our h'ble Prime Minister @narendramodi Ji today & I stand humbled and inspired in the wake of our conversation. His vision and his charisma are infectious & I'm grateful for the chance to have witnessed it in person 🙏🏻 pic.twitter.com/Tnl7JNRvT4

— Anil Kapoor (@AnilKapoor) January 16, 2019
तस्वीर में मिस्टर इंडिया के अभिनेता प्रधानमंत्री का अभिवादन कर रहे हैं. पिछले सप्ताह फिल्मी जगत के करण जोहर, रणवीर सिंह, रणवीर कपूर, आलिया भट्ट और विक्की कौशल जैसे शख्सियतों ने भी नई दिल्ली में मोदी से मुलाकात की. इस मुलाकात का एजेंडा फिल्म टिकट पर वस्तु एवं सेवा कर (जीएसटी) में कटौती के लिए उनको धन्यवाद देना था. इसके अलावा वे इस विषय पर बातचीत करना चाहते थे कि राष्ट्र निर्माण में फिल्म की कितनी भूमिका हो सकती है.
आईएएनएस से इनपुट लेकर | तस्वीर: अनिल कपूर ट्विटर
They say the best things in life are free! India's favourite music channels 9XM, 9X Jalwa, 9X Jhakaas, 9X Tashan, 9XO are available Free-To-Air. Make a request for these channels from your Cable, DTH or HITS operator.