गली बॉय का डायलॉग प्रोमो: रणवीर सिंह और आलिया भट्ट की केमिस्ट्री देख आप भी कह उठेंगे- मर जाएगी तू
यूं तो फिल्म का पूरा ट्रेलर की दमदार था लेकिन ट्रेलर का एक सीन जिसमें आलिया, रणवीर से कहती है 'मर जाएगा तू' वो काफी ट्रेंड हुआ. और अब फ़िल्म के इस नए डायलॉग प्रोमो में रणवीर और आलिया के बीच खट्टा-मीठा रिलेशनशिप देखने मिल रहा है.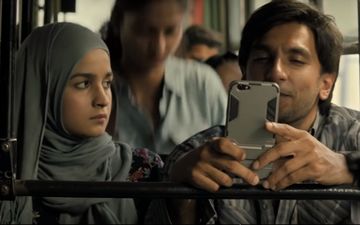 रणवीर सिंह और आलिया भट्ट की फिल्म गली बॉय का ट्रेलर कुछ हफ़्तों पहले रिलीज़ किया गया था जो खूब वायरल हुआ. यूं तो फिल्म का पूरा ट्रेलर की दमदार था लेकिन ट्रेलर का एक सीन जिसमें आलिया, रणवीर से कहती है 'मर जाएगा तू' वो काफी ट्रेंड हुआ. सोशल मीडिया पर इस डायलॉग के कई मीम भी बनाए गए और अब गली बॉय के निर्माताओं ने रणवीर सिंह और आलिया भट्ट पर फ़िल्माया गया पहला डायलॉग प्रोमो रिलीज कर दिया है.
फ़िल्म के इस नए डायलॉग प्रोमो में रणवीर और आलिया के बीच खट्टा-मीठा रिलेशनशिप देखने मिल रहा है. एक्सेल एंटरटेनमेंट ने अपने आधिकारिक ट्विटर पर पहला डायलॉग प्रोमो शेयर करते हुए लिखा,"Albina, mar jaayegi tu! Watch the video to find out why. http://bit.ly/GullyBoyDialoguePromo1 …@ritesh_sid #ZoyaAkhtar @FarOutAkhtar @tigerbabyindia @RanveerOfficial @aliaa08 @SiddhantChturvD @kalkikanmani @ZeeMusicCompany #GullyBoy" यह भी पढ़ें: गली बॉय के म्यूजिक लॉन्च पर दिखा रणवीर सिंह का क्रेजीपन, भीड़ के बीच कूद कर किया धमाल
एक्सेल एंटरटेनमेंट के साथ फ़िल्म के दोनों मुख्य कलाकार रणवीर और आलिया ने भी अपने आधिकारिक सोशल मीडिया एकाउंट पर फ़िल्म का पहला डायलॉग प्रोमो शेयर किया है.
गली बॉय धारावी के स्लम रैपर्स से प्रेरित कहानी है. पहली बार बड़े पर्दे पर आलिया भट्ट के साथ नज़र आने वाले अभिनेता रणवीर सिंह फ़िल्म में एक स्ट्रीट रैपर की भूमिका निभा रहे हैं. गली बॉय में आलिया भट्ट भी हैं जो एक्सेल एंटरटेनमेंट और जोया अख्तर के साथ पहली बार अभिनय कर रही हैं और फिल्म में अनदेखे अवतार में नज़र आएंगी. फ़िल्म में रणवीर का किरदार भारतीय रैपर नेज़ी उर्फ नावेद शेख और डिवाइन उर्फ विवियन फर्नांडीस के जीवनगाथा से प्रेरित है. यह भी पढ़ें: गली बॉय का गाना 'अपना टाइम आएगा' हुआ रिलीज़: रणवीर सिंह की अवाज में सुनिए असली रैप को
जोया अख्तर द्वारा रचित भूमिगत संगीत की वास्तविक दुनिया में रणवीर सिंह का रैपर अवतार दर्शकों को पसंद आ रहा है.
एक्सेल एंटरटेनमेंट और टाइगर बेबी द्वारा निर्मित
,
जोया अख्तर द्वारा निर्देशित "गली बॉय"
14
फरवरी
2019
को रिलीज होने के लिए तैयार है.
They say the best things in life are free! India's favourite music channels 9XM, 9X Jalwa, 9X Jhakaas, 9X Tashan, 9XO are available Free-To-Air. Make a request for these channels from your Cable, DTH or HITS operator.