विराट और अनुष्का के समर्थन में आए किरण रिजिजू, कहा- दोनों को पब्लिसिटी की जरूरत नहीं
जब से विराट और अनुष्का ने सड़क पर कचरा फेंकने वाले शख्स का वीडियो पोस्ट किया तभी से लोग उनकी मंशा पर सवाल खड़े कर रहे हैं. लेकिन अब केंद्रीय गृह राज्य मंत्री किरण रिजिजू ने ट्वीट करके दोनों के इस कदम की सराहना की है.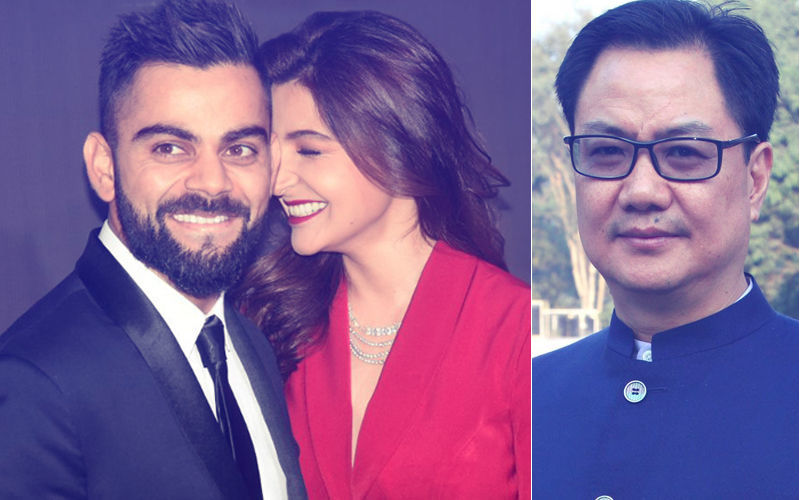 जब से विराट और अनुष्का ने सड़क पर कचरा फेंकने वाले शख्स का वीडियो पोस्ट किया तभी से लोग उनकी मंशा पर सवाल खड़े कर रहे हैं. जिसके बाद उस शख्स और उसके परिवार ने भी दोनों पर जमकर हमला बोला. लेकिन अब इन दोनों एक सपोर्ट में भारत सरकार का मंत्री आ खड़ा हुआ. केंद्रीय गृह राज्य मंत्री किरण रिजिजू ने ट्वीट करके दोनों के इस कदम की सराहना की है.
किरण रिजिजू ने ट्वीट करके लिखा कि 'विराट-अनुष्का को पब्लिसिटी चाहिए? बल्कि वे तो प्राइवेसी चाहेंगे. हमारा बर्ताव हमारी मानसिकता दर्शाता है...यह सामाजिक नैतिकता है और नैतिक शिष्टाचार पैसे व शिक्षा से नहीं आता.'
C'mon, Virat & Anushka need publicity!! They would rather crave for privacy!! Our conduct reflects our mentality. Civic sense is social ethics and ethical behaviour doesn't come with wealth & education. Let's keep India clean. #SwachhBharat

— Kiren Rijiju (@KirenRijiju) June 18, 2018
शनिवार को विराट कोहली ने पत्नी अनुष्का का एक ऐसा वीडियो साझा किया, जिसमें एक्ट्रेस एक शख्स को बीच सड़क पर कचरा फेंकने पर फटकार लगाती दिखाई दी. अनुष्का जब उस शख्स को डांट रही थी तब विराट ने वीडियो बना लिया और उसे ट्विटर पर शेयर कर दिया था. इस वीडियो में अनुष्का कह रही हैं, 'आप सड़क पर कचरा क्‍यों फेंक रहे हैं? आप प्‍लास्टिक क्‍यों सड़क पर फेंक रहे हैं? आगे से ध्‍यान रखें, आप सड़क पर ऐसे प्लास्टिक की बोतल नहीं फेंक सकते. डस्टबिन का इस्तेमाल करें.'
जिसके बाद विराट ने ट्विटर पर इस वीडियो को शेयर करते हुए लिखा कि सड़क पर कचरा फेंकते हुए देख हमने इन्हें समझाया. महंगी कार में झूमने वाले लोग अगर ऐसा करे तो? अगर आप भी ऐसा कुछ देखें तो जरूर शेयर करे और जागरूकता फैलाए.
C'mon, Virat & Anushka need publicity!! They would rather crave for privacy!! Our conduct reflects our mentality. Civic sense is social ethics and ethical behaviour doesn't come with wealth & education. Let's keep India clean. #SwachhBharat

— Kiren Rijiju (@KirenRijiju) June 18, 2018