PM नरेंद्र मोदी ने लगाई दहाड़, कहा- कश्मीर में बॉलीवुड के साथ-साथ अब इंटरनेशनल फिल्मों की भी होगी शूटिंग
मोदी का कहना है कि पहले के ज़माने में कई बॉलीवुड फिल्मों की शूटिंग कश्मीर में हुआ करती थी और अब वो चाहते हैं कि एक बार फिर फिल्म इंडस्ट्री (बॉलीवुड, तमिल, तेलुगु) यहां अपनी फिल्मों की शूटिंग करे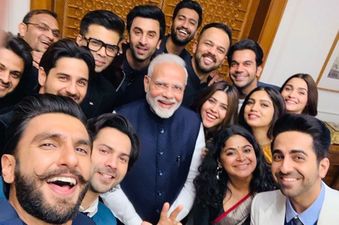 भारत सरकार ने 6 जुलाई को ऐतिहासिक फैसला लेते हुए जम्मू-कश्मीर से आर्टिकल 370 और 35A को ख़त्म कर दिया. जिसके तहत जम्मू एवं कश्मीर को विशेष दर्जा प्राप्त है. इसके साथ ही सरकार ने घोषणा की है कि राज्य को दो केंद्र शासित प्रदेशों में विभाजित किया जाएगा. पहले को जम्मू एवं कश्मीर कहा जाएगा, जिसमें विधानसभा होगी. वहीं दूसरा लद्दाख होगा, जिसमें विधानसभा नहीं होगी.
इस फैसले के 3 दिन बाद PM नरेंद्र मोदी ने देशवासियों को संबोधित किया और भविष्य में इस फैसले से होने वाले फायदों के बारे में बताया. PM का कहना है कि अब कश्मीर और लद्दाख एक बार फिर दुनियाभर में आकर्षण का केंद्र बनेगा. साथ ही टूरिज्म के मामले में भी ये खूब आगे जाएगी. मोदी के मुताबिक, अब लोग इन दोनों जगह पर इन्वेस्ट कर सकते हैं जिससे वहां के युवाओं को रोजगार मिलेगा.
PM Modi: Jammu Kashmir and Ladakh have the potential to be the biggest tourist hub of the world. There was a time when Kashmir was the favorite destination of Bollywood film makers, I am confident that in future even international films will be shot there. pic.twitter.com/PZGJX1sf6u

— ANI (@ANI) August 8, 2019
मोदी का ये भी कहना है कि पहले के ज़माने में कई बॉलीवुड फिल्मों की शूटिंग कश्मीर में हुआ करती थी और अब वो चाहते हैं कि एक बार फिर फिल्म इंडस्ट्री (बॉलीवुड, तमिल, तेलुगु) यहां अपनी फिल्मों की शूटिंग करे. देश के साथ-साथ मोदी ने विदेश की फिल्म इंडस्ट्री को कश्मीर में आकर अपनी फिल्मों को शूट करने का न्योता दिया है.
PM मोदी ने कहा, "एक समय था जब बॉलीवुड फिल्ममेकर्स के लिए कश्मीर पसंदीदा जगह हुआ करती थी. ऐसी कोई भी फिल्म नहीं होती थी जिसकी शूटिंग वहां नहीं होती थी. मुझे विश्वास है कि भविष्य में इंटरनेशनल फिल्में भी वहां शूट की जायेंगी".
They say the best things in life are free! India's favourite music channels 9XM, 9X Jalwa, 9X Jhakaas, 9X Tashan, 9XO are available Free-To-Air. Make a request for these channels from your Cable, DTH or HITS operator.