आलिया भट्ट और रणबीर कपूर से मिलने फिल्म ब्रह्मास्त्र के सेट पर पहुंचे भारत के प्रसीडेंट रामनाथ कोविंद
रणबीर कपूर और आलिया भट्ट पहली बार फिल्म ब्रह्मास्त्र में स्क्रीन शेयर करेंगे. अब जो खबर सामने आई है उससे लगता है भारत के प्रेसिडेंट रामनाथ कोविंद भी इस फिल्म का बेसब्री से इंतज़ार कर कर रहे हैं.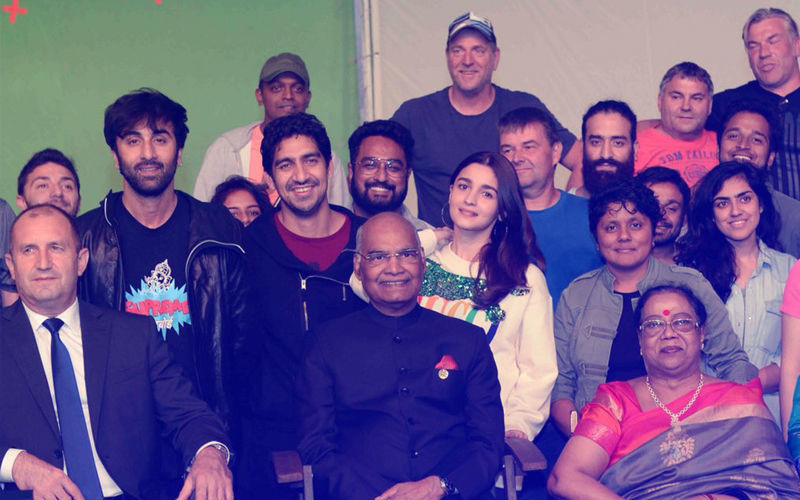 अमिताभ बच्चन, रणबीर कपूर और आलिया भट्ट स्टारर फिल्म ब्रह्मास्त्र की शूटिंग लंबे समय से बल्गेरिया में चल रही है. सेट से कई तस्वीरें सामने आ चुकी है. फिल्म की टीम जम कर मेहनत कर रही है और सेट पर धमाल भी कर रही है. ये पहली बार होगा जब रणबीर और आलिया स्क्रीन शेयर करेंगे. इन दोनों को फैन्स इन्हें एक साथ देखने के लिए बेकरार हैं. और अब जो खबर सामने आई है उससे लगता है भारत के प्रेसिडेंट रामनाथ कोविंद भी इस फिल्म का बेसब्री से इंतज़ार कर कर रहे हैं.
हुआ ये कि भारत के प्रेसिडेंट रामनाथ कोविंद भी फिलहाल बल्गेरिया में हैं. काम के बीच समय निकालकर वो अयान मुख़र्जी की इस फिल्म के सेट पर पहुंच गए. रामनाथ कोविंद के साथ बल्गेरिया के प्रेसिडेंट रुमेन रदेव भी सेट पर पहुंचे. और दोनों देशों के प्रेसिडेंट ने मिलकर सिनेमा के बारे में बातें की. प्रेसिडेंट कोविंद के ऑफिस ने सोशल मीडिया पर इस मुलाकात की तस्वीर शेयर की.
#PresidentKovind and President Radev dropped in at the studio in Sofia where the Hindi film Brahmastra is being made. The Presidents met the Indo-Bulgarian crew and chatted about cinema as a business and cultural link between the two countries pic.twitter.com/8ApZq1gEJA

— President of India (@rashtrapatibhvn) September 5, 2018
तस्वीर को शेयर करते हुए प्रेसिडेंट के ऑफिस ने लिखा, "प्रेसिडेंट कोविंद और प्रेसिडेंट रदेव सोफिया में उस स्टूडियो में पहुंचे जहां हिंदी फिल्म ब्रह्मास्त्र की शूटिंग चल रही है. प्रेसिडेंट इंडो-बल्गेरियन क्रू को मिले और सिनेमा के बारे में बातें की जो दोनों देशों के बीच बिजनेस और कल्चर का लिंक है".
बात करें रणबीर और आलिया कि तो कुछ दिन पहले स्पॉटबॉय.कॉम ने कुछ दिन पहले एक्सक्लूसिव खबर आपको बताई थी कि ब्रह्मास्त्र की शूटिंग ख़त्म होने के बाद कपूर परिवार और भट्ट परिवार एक साथ मिलकर पार्टी करने वाले हैं.