रणबीर कपूर की फिल्म 'संजू' का नया का पोस्टर शेयर करते हुए राजकुमार हिरानी ने बताई ये बात
जबकि पहले पोस्टर में हमें रणबीर कपूर द्वारा संजय दत्त के विभिन्न अवतारों की झलक देखने मिली थी, तो वही नए पोस्टर में बीते दिनों के फेमस एक्टर के सबसे शक्तिशाली यादों में से एक को दर्शाया गया है.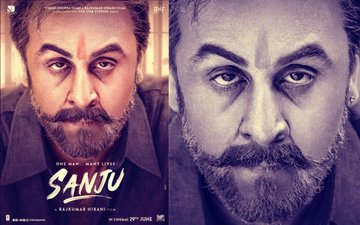 फिल्म निर्माता राजकुमार हिरानी ने रणबीर कपूर अभिनीत संजय दत्त की बायोपिक
'
संजू
'
का दूसरा पोस्टर जारी कर दिया है. टीज़र और पहले पोस्टर में संजय दत्त और रणबीर कपूर के बीच अनोखी समानता के साथ दर्शकों को हैरान करने के बाद
,
अब निर्देशक राजकुमार हिरानी ने ट्विटर पर फिल्म का दूसरे पोस्टर दर्शकों के साथ शेयर कर दिया है.
जबकि पहले पोस्टर में हमें रणबीर कपूर द्वारा संजय दत्त के विभिन्न अवतारों की झलक देखने मिली थी
,
तो वही नवीनतम पोस्टर में बीते दिनों के प्रसिद्ध अभिनेता के सबसे शक्तिशाली यादों में से एक को दर्शाया गया है.
ट्विटर पर पोस्टर साझा करते हुए राजकुमार हिरानी ने कहा
,"Ranbir as #Sanju! When he came out of Jail in 2016. Watch his complete story on June 29. #RanbirKapoor #RajkumarHiraniFilms @VVCFilms @foxstarhindi".
फ़िल्म के इस दूसरे पोस्टर में रणबीर कपूर की क्लोज़अप छवि में वह हूबहू संजय दत्त की कॉपी नज़र आ रहे है और इस तस्वीर को देख कर आप यक़ीनन दांतो तले उंगलियां चबाने पर मजबूर हो जाएंगे. फिल्म के टीज़र की प्रशंसा न सिर्फ दर्शकों ने बल्कि आलोचकों ने भी की है
,
जिस वजह से अब फिल्म रिलीज होने का बेसब्री से इंतेजार किया जा रहा है. देखते ही देखते फ़िल्म का टीज़र और पोस्टर इंटरनेट पर खूब वायरल हो गया और सबसे ज़्यादा देखने देखे जाने वाले टीज़र का खिताब अपने नाम कर लिया है.
वर्ष की सबसे अनुमानित फिल्मों में से एक
, '
संजू
'
ने संजय दत्त के रूप में रणबीर कपूर के अद्भुत परिवर्तन के साथ दर्शकों को आश्चर्यचकित कर दिया है. राजकुमार हिरानी द्वारा लिखित और निर्देशित यह बायोपिक रणबीर कपूर
,
मनीषा कोइराला
,
परेश रावल
,
अनुष्का शर्मा
,
दीया मिर्जा और सोनम कपूर जैसे कलाकारों से लैस है.
फॉक्स स्टार द्वारा प्रस्तुत
,
यह बायोपिक राजकुमार हिरानी द्वारा निर्देशित है. वही विधु विनोद चोपड़ा और राजकुमार हिरानी द्वारा निर्मित यह फ़िल्म
29
जून
2018
को रिलीज होगी.
They say the best things in life are free! India's favourite music channels 9XM, 9X Jalwa, 9X Jhakaas, 9X Tashan, 9XO are available Free-To-Air. Make a request for these channels from your Cable, DTH or HITS operator.