अचानक बिगड़ी तबियत के बाद अस्पताल में भर्ती हुए दिलीप कुमार, फैन्स से कहा- दुआ मांगो
दिलीप कुमार के ट्विटर पर पर जानकारी दी गयी है कि एक्टर के सीने में इन्फेक्शन हो गया था जिस वजह से उनकी तबियत खराब हुई. ट्वीट में अंत में लिखा है कि वो लोगों को उनके लिए दुआ और प्रार्थना करने के लिए रिक्वेस्ट कर रहे हैं.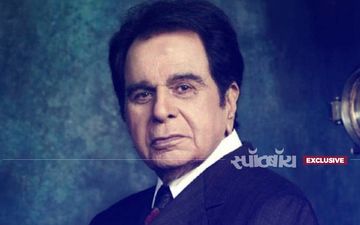 बॉलीवुड के दिग्गज एक्टर दिलीप कुमार की तबियत अचानक खराब हो गयी है उन्हें मुंबई के लीलावती हॉस्पिटल में भर्ती कराया गया है. दिलीप कुमार के ट्विटर पर पर जानकारी दी गयी है कि एक्टर के सीने में इन्फेक्शन हो गया था जिस वजह से उनकी तबियत खराब हुई. ट्वीट में अंत में लिखा है कि वो लोगों को उनके लिए दुआ और प्रार्थना करने के लिए रिक्वेस्ट कर रहे हैं.
बता दें, दिलीप कुमार की उम्र 95 वर्ष हो चुकी है और पिछले कुछ सालों से उनकी तबियत बहुत बार खराब हो चुकी है. वो रूटीन चेक अप के लिए कई बार हॉस्पिटल जाते रहते हैं लेकिन इस बार तबियत ज्यादा खराब बताई जा रही है.
Saab has been admitted to Mumbai's Lilavati Hospital as he was bit uneasy due to a chest infection. He's recuperating. Requesting your duas and prayers. -FF

— Dilip Kumar (@TheDilipKumar) September 5, 2018
अब स्पॉटबॉय.कॉम को पता चला है कि एक्टर को पिछले 2-3 दिन से सीने में इन्फेक्शन हुआ था और अब उन्हें एसपीरेशन निमोनिया हो गया है. उन्हें दोपहर को 2:30 अस्पताल में भर्ती कराया गया. इस पॉइंट पर उन्हें बढ़ी हुई उम्र की कई प्रॉब्लम से डील करना पड़ रहा है. उन्हें 72 घंटे के लिए डॉक्टरों की निगरानी में रखा गया है.
दिलीप कुमार 80 के दशक के जानेमाने एक्टर हैं. आज भी उनकी फिल्में लोग पसंद करते हैं और उनकी एक्टिंग की मिसाल देते हैं. उन्होंने क्रांति, नया दौर , कर्मा , राम और श्याम, देवदास, मुगल-ए-आज़म और कई बेहतरीन फिल्मों में काम किया है. हिंदी सिनेमा में अपने योगदान के लिए उन्हें दादा साहेब फाल्के अवार्ड, पद्म भूषण से सम्मानित किया गया है.
They say the best things in life are free! India's favourite music channels 9XM, 9X Jalwa, 9X Jhakaas, 9X Tashan, 9XO are available Free-To-Air. Make a request for these channels from your Cable, DTH or HITS operator.