इवेंट का हिस्सा बनने रूस गए बिग बॉस 12 कंटेस्टेंट करणवीर बोहरा को एअरपोर्ट पर रोका गया, एक्टर ने दी जानकारी
एक इवेंट में शामिल होने के लिए टीवी एक्टर करणवीर बोहरा रूस पहुंचे हैं लेकिन रूस के एअरपोर्ट पर ही उन्हें रोक दिया गया हैं और उन्हें वापस भेजने की तैयारी चल रही हैं.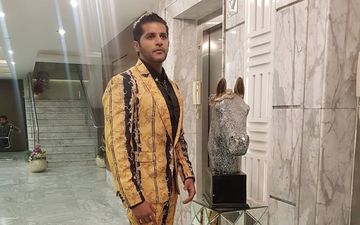 टीवी शो बिग बॉस 12 के कंटेस्टेंट रहे मशहूर टीवी एक्टर करणवीर बोहरा इस समय रूस में फंसे हुए हैं. इस बात की जानकारी उन्होंने खुद अपने सोशल मीडिया के जरिए दी है. दरअसल मीडिया रिपोर्ट्स के मुताबिक करणवीर बोहरा एक इवेंट में शामिल होने के लिए रूस गए हुए हैं. लेकिन रूस के एअरपोर्ट पर ही उन्हें गिरफ्तार कर लिया गया है और आगे नहीं जाने दिया जा रहा हैं. इस बात की जानकारी खुद टीवी एक्टर करणवीर बोहरा ने सोशल मीडिया के जरिए दी हैं.

करणवीर बोहरा ने ट्विटर पर इंडियन एम्बेसी को टैग करते हुए लिखा कि "मेरा पासपोर्ट थोड़ा डैमेज हो गया है जिसके कारण मॉस्को के एयरपोर्ट पर इंतजार करना पड़ रहा हैं. वो मुझे भारत वापस भेजने की तैयारी कर रहे हैं. आपको वीजा देने से पहले मुझसे कहना था. बहुत बुरा महसूस कर रहा हूं." यह भी पढ़े: करणवीर बोहरा ने गणतंत्र दिवस के मौके पर अपनी बेटियों को दी स्वच्छता की सीख
जिसके बाद इंडियन एम्बेसी ने भी करणवीर के ट्वीट पर जवाब देते हुए लिखा कि "एम्बेसी के अधिकारी इस मामले में रशियन अथोरिटी के संपर्क में हैं." यह भी पढ़े: बिग बॉस 12 के घर से करणवीर बोहरा और रोमिल चौधरी हुए बाहर?
Embassy officials are in touch with Russian authorities regarding the issue.

— India in Russia (@IndEmbMoscow) January 30, 2019
तो वहीं करणवीर बोहरा की पत्नी टीजे सिधू ने इस मामले को उठाया है. इसके अलावा भी कई और सेलेब्स ने भी इस मुद्दे को उठाया है. यह भी पढ़े: बिग बॉस 12 ख़त्म होने के बाद करणवीर बोहरा ने कहा- मैं सीधे लड़ाई और गाली-गलौच करने वालों में से नहीं हूं
Indian authorities need to resolve these legal issues before a citizen to leaves India. Other countries are often strict with security protocols. What is one supposed to do after landing in a foreign country? https://t.co/286hzUGKru

— Teejay Sidhu (@bombaysunshine) January 30, 2019
खबरों के मुताबिक अधिकारी लगातार इस मामले को हल करने में जुटे हुए है जिससे करणवीर रूस में जाकर उस इवेंट का हिस्सा बन सके.
Image Credit: Instagram/Karanvir Bohra
They say the best things in life are free! India's favourite music channels 9XM, 9X Jalwa, 9X Jhakaas, 9X Tashan, 9XO are available Free-To-Air. Make a request for these channels from your Cable, DTH or HITS operator.