बिग बॉस 12 के घर से करणवीर बोहरा और रोमिल चौधरी हुए बाहर?
बिग बॉस 12 के विजेता का ऐलान आज हो जाएगा. 5 लोगों के बीच चल रही इस रेस से करणवीर बोहरा और रोमिल चौधरी के बाहर हो जाने की खबर हैं.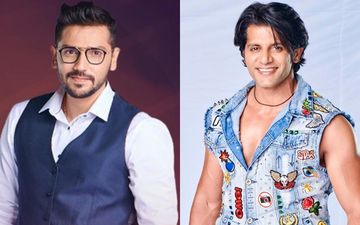 बिग बॉस का ये सीजन पिछले अपने कई सीजन के मुकाबले सबसे कमजोर रहा. कई हफ्तों तक चलने वाला ये शो बेदम कंटेस्टेंट और बेकार के झगड़ों के चलते टीआरपी की लिस्ट में कोई खास मुकाम ने बना पाया. लेकिन अब ये भी अपने आखिरी पड़ाव पर पहुंच चुका हैं. आज इस सीजन के विजेता का ऐलान हो जाएगा. बिग बॉस 12 के फिनाले की रेस अब तक करणवीर बोहरा, रोमिल चौधरी, श्रीसंत, दीपिका कक्कड़ और दीपक चौधरी के बीच चल रही थी. लेकिन खबरों की माने तो अब इस रेस से करणवीर बोहरा और रोमिल चौधरी बाहर हो चुके है.

दरअसल घर के अंदर चलनेवाली उठापटक के बीच करणवीर बोहरा और रोमिल चौधरी ने अच्छा खेल दिखाया. जिसका नतीजा हुआ कि ये टॉप 5 तक पहुंचने में कामयाब रहे. लेकिन अब घर के अंदर इनका खेल खत्म हो चुका है. कम वोट मिलने के चलते करणवीर जहां घर से बाहर हो गए वहीं खबर है कि रोमिल ने पैसों से भरा बैग लेकर इस रेस छोड़ने का फैसला किया.
करणवीर बोहरा की पत्नी टीजे ने सोशल मीडिया पर करणवीर के बाहर होने की खबर को शेयर किया है.
It is not easy to walk out of BiggBoss with this much love and respect! You had a terrific journey and won all the hearts along the way, sweety! Proud of you!

Karanvir For The Win pic.twitter.com/mZuwfZWvAz

— Teejay Sidhu (@bombaysunshine) December 29, 2018
तो वहीं बिग बॉस खबरी नाम के ट्विटर हैंडल से रोमिल के भी बाहर होने की जानकारी दी गई हैं.
ऐसे में अब बिग बॉस की रेस में दीपिका कक्कड़, श्रीसंत और दीपक ठाकुर ही बचे हैं. देखना होगा कि इन तीनों में से विनर का ताज किसके सिर बंधता हैं?
They say the best things in life are free! India's favourite music channels 9XM, 9X Jalwa, 9X Jhakaas, 9X Tashan, 9XO are available Free-To-Air. Make a request for these channels from your Cable, DTH or HITS operator.