दीपिका कक्कड़ पर तेजाब फेंकने की धमकी देने वाले फैन पर अब श्रीसंत की पत्नी भुवनेश्वरी ने दिया ये जवाब
बिग बॉस 12 का ख़िताब जीतने के बाद दीपिका कक्कड़ को एक ट्विटर यूजर ने तेजाब फेंकने की धमकी दी. कुछ लोगों ने क्लेम किया कि ये श्रीसंत का फैन है.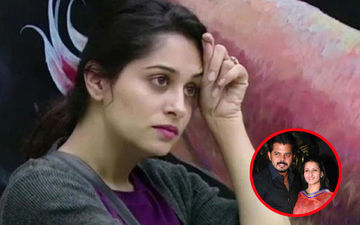 बिग बॉस का खिताब जीतने के बाद दीपिका कक्कड़ जहां खुशी से फूली नहीं समां रही है वहीं सोशल मीडिया पर कई लोग दीपिका की जीत से खुश नहीं है. ऐसे में कई यूजर्स उन्हें ट्रोल करते दिखाई दिए. लेकिन इनमे से एक ने तो हद ही कर दी. दीपिका कक्कड़ को सही विनर ना मानते हुए इस शख्स ने कई बातें कही लेकिन हद तो तब हो गई जब उसने दीपिका पर तेजाब फेंकने तक की बता कह डाली. जिसके बाद एक्ट्रेस के फैन ने इस यूजर के ट्वीट पर मुंबई पुलिस को टैग कर दिया.

जिसके बाद कई यूजर्स ने क्लेम किया कि दीपिका को धमकी भरा ट्वीट करनेवाला यूजर श्रीसंत का फैन है. लेकिन श्रीसंत के फैन्स ने इस यूजर को श्री का फैन मानने से इंकार कर दिया. जो इंसान ऐसी धमकी दे वो श्रीसंत का फैन नहीं हो सकता. हालांकि ये साफ नहीं हो पाया.
ऐसे में अब श्रीसंत की पत्नी भुवनेश्वरी ने श्रीसंत और उनके फैन्स के सपोर्ट में ट्वीट किया है. भुवनेश्वरी ने ट्वीट में लिखा कि "हमें भी दूसरे फैन्स से बेहद एब्युज ट्वीट मिले हैं. मैं जानती हूं कि कौन क्या लिखता है इसपर हमारा कोई कंट्रोल नहीं होता. मैं श्री के फैन्स को जानती हूं और भरोसा करती हूं."
My dear #SreeFam,came to know about the Acid attack news yesterday.We want to tell you all that Me and Sree are very sure that no one from #SreeFam can ever write such a thing & we believe You all. It could be any one portraying as Sreefam.

— Bhuvneshwari Sreesanth (@Bhuvneshwarisr1) January 7, 2019
आपको बता दे कि स्पॉटबॉय.कॉम से खास बाते करते हुए सुरभि राणा ने भी दीपिका को धमकी देने वाले इस यूजर के खिलाफ पुलिस को तेजी से कार्यवाही करते हुए उसे गिरफ्तार करने की अपील की. वैसे इस मामले पर अभी तक दीपिका कक्कड़ का भी बयान सामने नहीं आया है.

Image Source: indiancelebsinfo,imggram
They say the best things in life are free! India's favourite music channels 9XM, 9X Jalwa, 9X Jhakaas, 9X Tashan, 9XO are available Free-To-Air. Make a request for these channels from your Cable, DTH or HITS operator.