सोशल मीडिया पर लोगों ने कहा- बंद हो ये है मोहब्बतें, एकता और दिव्यंका ने दिया तगड़ा जवाब
हाल ही टीवी सीरियल 'ये हैं मोहब्बतें' में आए बदलाव के कारण सोशल मीडिया पर इस शो को काफ्फी ट्रोल किया जा रहा है और इसे बंद करने की डिमांड की जा रही है. जिसके बाद अब एकता और दिव्यंका भी इस बहस में कूद पड़े हैं.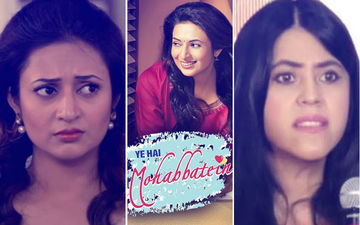 हाल ही टीवी सीरियल 'ये हैं मोहब्बतें' में आए बदलाव के कारण सोशल मीडिया पर इस शो को काफ्फी ट्रोल किया जा रहा है और इसे बंद करने की डिमांड की जा रही है. दरअसल प्रोड्यूसर एकता कपूर का ये शो जब शुरू हुआ था तो इसको लेकर लोगों में काफी उस्तुकता देखी गई. लेकिन पिछले कुछ समय में शो की कहानी में आए बदलाव और लीप के साथ इसके टेलीकास्ट टाइम में भी बदलाव हुआ है जिसके बाद लोग इस शो को लेकर ट्रोल कर रहे हैं. फैंस ने ट्वीटर पर इस सीरियल को बंद करने की गुहार लगानी शुरू कर दी है.
सबसे पहले आप भी देखिए किस तरह फैंस इसे लेकर ट्वीट कर रहे हैं.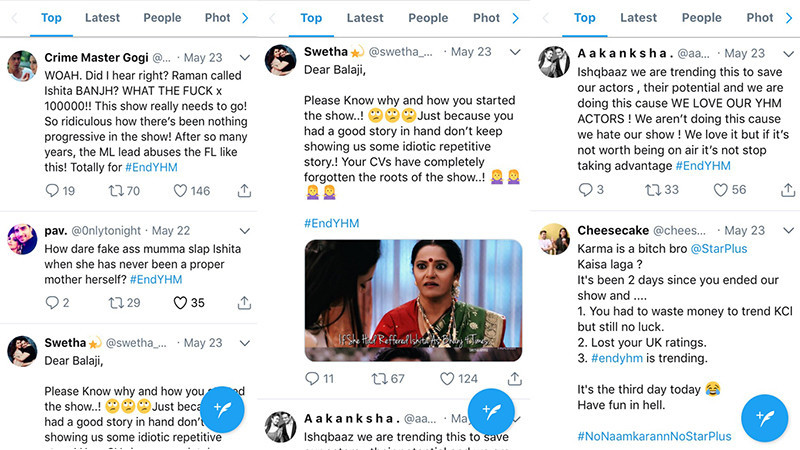 इसके बाद शो की प्रोड्यूसर एकता कपूर ने ट्वीट करके कहा है कि 'शो बंद करने की मांग से बेहतर है शो देखना बंद कर दे. सभी कहानियां दर्शकों की पसंद मुताबिक नहीं दिखाई जा सकती हैं. मैं अपने टीवी दर्शकों से प्यार करती हूं, उनके विचारों को महत्त्व देती हूं और उनकी बातों को मानती हूं लेकिन हमारी क्रिएटिव टीम टीवी रेटिंग और नॉर्म्स के अनुसार चलती है. ये शो के फैन ग्रुप के लिए है. लव और रिस्पेक्ट.
For once I'll say it my frns!Instead of hash tagging #endyhm stop watching it!!All stories will not go as u wish as an audience !! I love my tv audience I value ur opinion Bt our creatives work with ratings n tv norms! This is for show fan groups!Love n respect always https://t.co/b6YMht9kFt

— Ekta Kapoor (@ektaravikapoor) May 25, 2018
World is full of bullies. We women can't get affected because of them. We show our worth through our actions that speak louder than words.

So is #Ishita who's too high on morality to be bothered by anything smaller.
Watch her/my upcoming episodes.#LongLiveYHM#YehHaiMohabbatein

— Divyanka T Dahiya (@Divyanka_T) May 25, 2018
एकता के बाद दिव्यंका ने भी ट्वीट करके अपनी नाराजगी जाहिर की. उन्होंने ट्वीट करके लिखा ये दुनिया ऐसे लोगों से भरी हुई है. हम महिलाओं को ऐसे लोग परेशान नहीं कर सकते है. हम अपने एक्शन से अपना मूल्य बताते हैं जो शब्दों से कही ज्यादा होते हैं. ये है मोहब्बतें हमेशा चलता रहे.
They say the best things in life are free! India's favourite music channels 9XM, 9X Jalwa, 9X Jhakaas, 9X Tashan, 9XO are available Free-To-Air. Make a request for these channels from your Cable, DTH or HITS operator.