टीवी एक्ट्रेस सौम्या टंडन के घर में लगी आग, बाल-बाल बची एक्ट्रेस
सौम्या ने खुद से जुड़ी एक ऐसी बात सोशल मीडिया पर शेयर की है जो उनके फैन्स को हैरान कर सकती है. सौम्या ने सोशल मीडिया पर अपने घर के एक कोने की तस्वीर को शेयर करते हुए बताया है कि उनके घर में आग लग लग गयी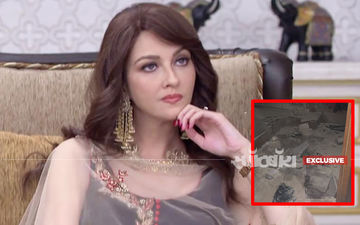 टीवी शो भाभी जी घर पर हैं से घर-घर में मशहूर हुई एक्ट्रेस सौम्या टंडन हमेशा ही चर्चा में बनी रहती है. सौम्या सोशल मीडिया पर काफी लोकप्रिय हैं और फैन्स उनसे जुड़ी खबर जानने के लिए बेताब रहते हैं. सौम्या खुद से जुड़ी उपडेट फैन्स के साथ अक्सर शेयर करती हैं जिसे खूब पसंद किया जाता है लेकिन अब सौम्या ने खुद से जुड़ी एक ऐसी बात सोशल मीडिया पर शेयर की है जो उनके फैन्स को हैरान कर सकती है.
सौम्या ने सोशल मीडिया पर अपने घर के एक कोने की तस्वीर को शेयर करते हुए बताया है कि उनके घर में आग लग लग गयी. सौम्य ने लिखा, "घर में आग लगी. पहला सबक सीखा कि लिक्विड मोस्कीटो रेप्लांट अपने बेड के बगल में नहीं लगाना चाहिए खास करके तब जब वो ख़त्म हो जाए. दूसरा- लूज कनेक्शन वाली चीजों को कभी प्लग करके नहीं रखें. तीसरा- आग बुझाने के यंत्रों का उपयोग करना सीखें, इसे अभी घर पर रखें". यह भी पढ़ें: मां बनी सौम्या टंडन ने अपनी प्रेगेंसी से लेकर दोबारा काम पर लौटने को लेकर किए कई खुलासे
Had fire in my house 😢, lessons learnt 1. Never sleep with liquit mosquito replant next to your bed especially if it's over take it off the switch 2. Never have loose connection things plugged in 3. Learn to use fire extinguishers infact buy n keep it at home now. pic.twitter.com/wpb5YiHqUP

— Saumya Tandon (@saumyatandon) February 21, 2019
हमने जब एक्ट्रेस ये जानने के लिए कांटेक्ट किया कि क्या अब सब ठीक है तो उन्होंने कहा, "हां, सब ठीक है बस मामूली रूप से जली हूं".
कल हमने आपको बताया था कि कोबरापोस्ट के स्टिंग ऑपरेशन में सौम्या टंडन साफ निकली. उन्होंने पैसे लेकर किसी भी पार्टी का प्रमोशन करने से मना कर दिया. हमने जब उनसे इस बारे में बात की तो उन्होंने कहा, "मुझे याद नहीं है कि उन लोगों ने मुझे कब कॉल किया था क्योंकि मुझे पोलिटिकल रैली और उद्घाटन के कार्यक्रम के लिए कई कॉल आते हैं. उन लोगों ने सोशल मीडिया पर पोलिटिकल पार्टी को प्रमोट करने के लिए कॉल किया था, यानी अपने हैंडल से कुछ पोजिटिव पोस्ट करना. लेकिन जैसा कि मैं हमेशा कहती हूं, मैं पैसों के लिए होस्ट कर सकती हूं लेकिन पोलिटिकल इशू के लिए कोई अपीयरेंस नहीं दे सकती क्योंकि ये बहुत सेंसिटिव और देश से जुड़ा हुआ है. ये बहुत सीरियस मुद्दा है. मैं ऐसा करूंगी अगर मुझे इसमें विश्वास है लेकिन पैसों के लिए नहीं. आप जिसको जानते नहीं, उसके लिए किसी रैली में कैसे जा सकते हैं. ये सही नहीं है"
They say the best things in life are free! India's favourite music channels 9XM, 9X Jalwa, 9X Jhakaas, 9X Tashan, 9XO are available Free-To-Air. Make a request for these channels from your Cable, DTH or HITS operator.