पुलवामा में हुए आतंकी हमले की निंदा करते हुए टेलीविज़न सितारों ने शहीद जवानों को दी श्रद्धांजलि
टेलीविज़न सितारों ने भी पुलवामा हमलें में शहीद जवानों के परिवार के लिए अपनी संवेदना व्यक्त करते हुए इन आतंकी हमलों की कड़ी निंदा की. ट्वीट करके जताया अपना गुस्सा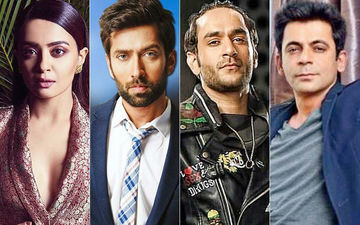 बॉलीवुड सितारों के अलावा टेलीविज़न दुनिया के कई सितारों ने जम्मू-कश्मीर के पुलवामा में हुए इस आतंकी हमले की कड़ी निंदा की. टीवी एक्टर नकुल मेहता, गौतम रोड़े, सुरवीन चावला, सुनील ग्रोवर, करनवीर बोहरा, रोहित रॉय, गौरव चोपड़ा, विकास गुप्ता जैसे कई सितारों ने 40 से ज्यादा शहीद होने वाले जवानों के परिवार के लिए अपनी संवेदनाए व्यक्त करते हुए, इस आतंकवादी हमले के खिलाफ सोशल मीडिया पर अपना गुस्सा व्यक्त किया है. देखिए टीवी सितारों के यह ट्वीट
इश्कबाज़ अभिनेता नकुल मेहता ने ट्वीट करते हुए लिखा, "जम्मू और कश्मीर में घृणित आतंकी हमले के बारे में सुनकर दिल दहल गया. सीआरपीएफ के सैनिकों और उनके परिवारों के लिए प्रार्थना."

Heart bleeds to hear about the abhorrent & dastardly terror attack in J&K! Prayers for the CRPF soldiers & families. 🙏#pulwama

— Nakuul Mehta (@NakuulMehta) February 14, 2019
गौतम रोड़े ने लिखा, "बहुत ही ज्यादा हैरान और गुस्सा हूं यह सुनकर कि कायरों ने पुलवामा में हमारे सीआरपीएफ के काफिले पर हमला किया. शहीद सैनिकों के परिवारों के प्रति मेरी हार्दिक संवेदना, भगवान उनकी आत्मा को शांति दे.

Shocked and angry about the cowardly terror attack on the @crpfindia convoy in #pulwama. My heartfelt condolences to the families of the martyred soldiers🙏🏻 May God bless their souls 🙏🏻🙏🏻

— Gautam Rode (@gautam_rode) February 14, 2019
कॉमेडियन सुनील ग्रोवर ने लिखा, "पूरा देश जवानो पर हुए इस हमले से सदमे में है. उनके परिवार को मेरी सहानुभूति."

Heart goes out to the people who lost their lives and their families. The whole nation is feeling the pain. Prayers. 🙏#KashmirTerrorAttack

— Sunil Grover (@WhoSunilGrover) February 14, 2019
रोहित रॉय ने भी कहा, "ये बहुत ही दुख भरा दिन है और अगर हम उनकी इस बात का जवाब नही देंगे तो यह हमारे देश के लिए और भी ज्यादा दुख की बात होगी. कुछ देश शांति की परिभाषा को नही समझते. वह जिस भाषा को समझते हैं, उन्हें उसी भाषा में समझाना पड़ता है."

#PulwamaTerrorAttack #kashmir sad sad day .. and if we don't respond, then it will be an even sadder day for the country.. some countries don't understand the language of peace .. they have to be dealt with in the language they understand and perpetrate ..

— Rohit Roy (@rohitroy500) February 15, 2019
अभिनेता गौरव चोपड़ा ने लिखा, "प्यार वाले दिन पर पुलवामा में यह आतंकी हमला हुआ. मैं जानना भी नही चाहता यहां सही कौन है. क्या हम ये निर्दोष लोगो को मारना बंद कर सकते है? इससे क्या हासिल होगा होगा और किस कीमत पर?

#Pulwama violence on a day meant for the celebration of love. Distressing.
I don't even care who's on the right here. Can we just stop this merciless killing of fellow humans? What will this achieve? What ? And what cost ? #stop

— Gaurav Chopra (@gauravchopraa) February 14, 2019
अभिनेत्री सुरवीन चावला ने लिखा, "भयानक और अमानवीय और दुखद. मेरी संवेदनाएं शहीद जवानों के उनके परिवार के साथ है. यह सब कब बंद होगा?

विकास गुप्ता ने लिखा, "दिल टूट गया यह सुनकर की कई जवानों की जाने गई. एक जीवन के ख़त्म होने से पूरा परिवार टूट जाता है, जिसे हम भी नही समझ सकते, हम सिर्फ ट्वीट करके इसकी निंदा करते हैं."

It's heartbreaking to hear about the lives of soldiers that were taken. One life taken is one family uprooted and their loss cannot be even understood by us. We can only tweet and say we condemn it.

— Vikas Gupta (@lostboy54) February 14, 2019
कॉमेडियन किकु शारदा ने लिया, "मेरा दिल उन जवानों को लिए है, जिन्होंने अपनी जिंदगी अपने देश के लिए और हमारे लिए दे दी है. उनके परिवार के प्रति संवेदना."

My heart goes out to the CRPF Personnel who sacrificed their life for their country - for us , condolences to the families of the martyrs 🇮🇳 🇮🇳

— kiku sharda (@kikusharda) February 15, 2019
उपेन पटेल ने लिखा, "कश्मीर में हुए इस आतंकी हमले के बारे में सुनकर बहुत ही ज्यादा हैरान और दुखी हूं, शहीद हुए सैनिकों और उनके परिवारों के लिए मेरी प्रार्थना."

Extremely shocked and saddened to hear about #KashmirTerrorAttack. Prayers for the soldiers who lost their lives and for their families.. 🙏🏻

— Upen Patel (@upenpatelworld) February 14, 2019
राजीव खंडेलवाल ने लिखा, "कश्मीर में सीआरपीएफ के जवानों की मौत के बारे में सुनकर बहुत ही ज्यादा दुःख हुआ. शांति को भंग करने ऐसे दुश्मनों द्वारा की गई ऐसी नासमझ हत्याओं से और ज्यादा घृणा पैदा होती है. जिन सैनिकों ने अपनी जान गवाई मैं उनके दर्द को महसूस कर सकता हूं."

It is really really sad to hear about the death of the CRPF personnel in Kashmir. Such mindless killings orchestrated by the enemies of peace and harmony will lead to more hate. I feel for the families of the soldiers who lost their lives.

— Rajeev Khandelwal (@RK1610IsMe) February 14, 2019
Image Source:gullyboy, instagramlostboyjourey,photogallery,Newsdog
They say the best things in life are free! India's favourite music channels 9XM, 9X Jalwa, 9X Jhakaas, 9X Tashan, 9XO are available Free-To-Air. Make a request for these channels from your Cable, DTH or HITS operator.