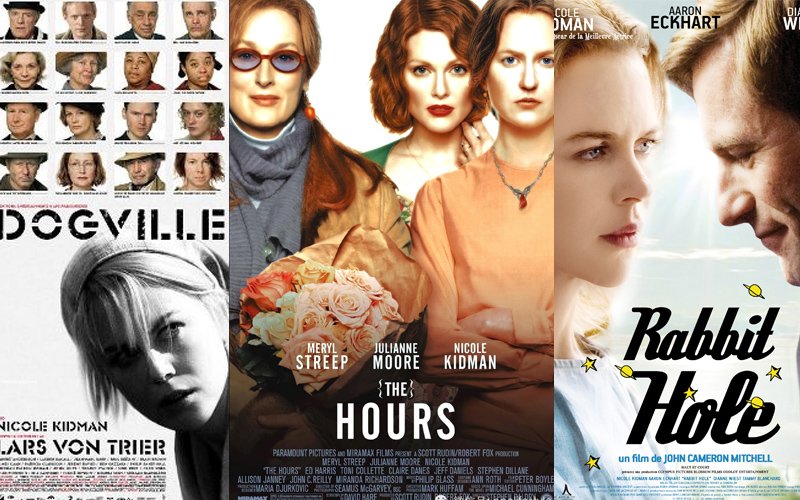 Your browser does not support the video tag.
Nicole Kidman turns 49 today. The talented actress has given some impressive performances since she first hit the screens in Bush Christmas (1983). We list her five rocking performances.

Dogville (2003)


Image Source: zcine

The director who loves to shock, Lars Vans Tries' offering Dogville has an atrocious storyline that shocked the audience. This film is not for the weak-hearted, but Nicole shines in her role as a mysterious woman who comes to the village and becomes a part of the daily village life. Nicole plays Grace, a woman who agrees to do a village's chores but ends up being enslaved by the villagers. The film is critically acclaimed for its handling of ambitions and the way people change when given freedom.

The Hours (2002)


Image Source: movpins

When Meryl Streep, Nicole Kidman and Julianne Moore come together, you get a film that's a definite watch. These iconic actresses came together for The Hours. Nicole finally got the Oscars nod for her portrayal of Virginia Woolfe, the English author who committed suicide.

Rabbit Hole (2010)


Image Source: slapdash

Nicole Kidman and Aaron Eckhart play Becca and Howie Cobert, a couple who are coming to terms with the sudden death of their child, Danny. Nicole brought the story of a woman torn between nursing the memories of their dead child and moving on. Nicole was nominated for Best Actress for her role as Becca at the Academy Awards for Best Actress.

Moulin Rouge (2001)


Image Source: forum

Acting in a musical is one of the most difficult performances and Nicole slayed as Satine, the star courtesan in a cabaret named Moulin Rouge.She played the central character in a love triangle that turns into a tragedy. The film was nominated for several Oscars at the 74th Oscar Awards, including Best Film. Nicole was nominated for the Best Actress award.

Eyes Wide Shut (1999)


Image Source: annayas

Eyes Wide Shut garnered publicity for all the wrong reasons but is still one of Nicole's greatest performances. Nicole and Tom Cruise play Anna and William Harford, a young couple who get the shock of their lives seeing the sexually charged happenings in a party they are invited to. Nicole was an audience favourite as a naive woman who was suddenly thrust into a world of loose morals. The movie was controversial because of the sexually explicit content and because it starred the then real life couple Nicole and Tom starred in a film.

Stanley Kubrick's direction took the film to a whole new level, making this one of Nicole's most remembered roles.

Thumbnail Image Source: slapdash, movpins & tpwang

All our pictures are free to be leaked without our permission. Do note: They are not Censor Certified.