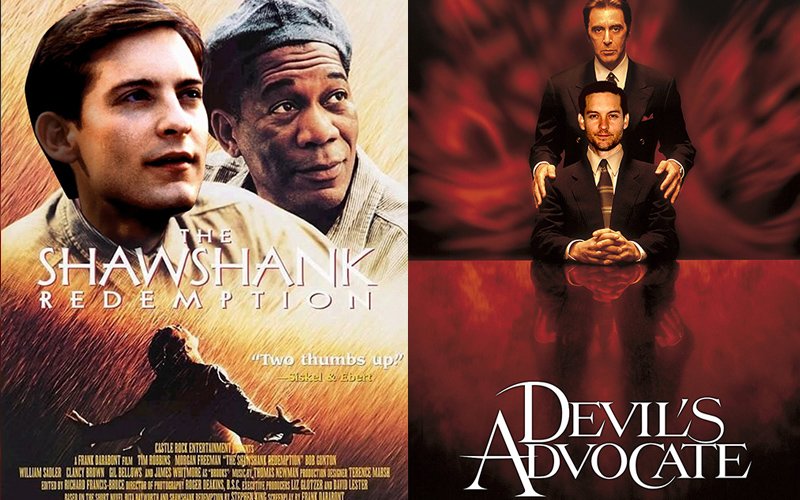 Your browser does not support the video tag.
Tobey Maguire generated a whole fan-base with his Spider-Man outing in three films. He is mostly out of the limelight since then though. Today, he turns 41.

His last screen outing was Pawn Sacrifice in 2014, where he played a character based on chess great Bobby Fischer.

Who wouldn't like more of Tobey back in Hollywood? Here's our list of 5 reboots we'd love Tobey to be a part of:

#1 Bud Fox in Wall Street (1987)



This 1987 Michael Douglas Charlie Sheen starrer was a sleeper hit. The film's cult success status gave way to a sequel, Wall Street: Money Never Sleeps.

Wall Street tells the story of Wall Street icon Gordon Gecko who decides to mentor a young Bud Fox, only to be taken down by Bud.

The film was an amazing platform for the two talented actors and the chemistry between two was inspiring, especially the confrontation scene.
We'd love Tobey to take on Bud Fox's role that Charlie Sheen did so well in the original film.

The fan inside us tells us that nobody else but Michael Douglas should bring to screen Gordon Gecko again.

Tobey and Michael in a film together... think of the possibilities!

#2 Andy Duresne in Shawshank Redemption (1994)



This film regularly makes the top ten films ever made lists and for a good reason. This Tim Robbins-Morgan Freeman starrer is one of the rare Stephen King prison films.

It has a beautiful script that requires only the best of Hollywood to bring its characters to life. We think Tobey would wonderfully fit the bill as Andy Dufresne, the accountant wrongly convicted and jailed for the murder of his wife.

#3 Kevin Lomax in Devil's Advocate (1997)



Keanu Reeves gave an amazing performance as the naive lawyer who's suddenly thrust into the world of law-firms and lawyers.

He stood his ground against the legendary Al Pacino, who played John Milton, the owner of the law firm that Keanu works in.

The film has several layers to it and deals with such concepts like greed, inherent evil and the war between good and evil.

Put Tobey Maguire's poker-face look and subtle dialogue delivery and you have another amazing film on your hands.

#4 Forrest Gump in Forrest Gump (1994)



Big boots to fill, but we think Tobey has the acting chops to fulfil this role, which was so amazing done by Tom Hanks.

Forrest Gump is about this naive man who somehow plays a part in what becomes America's History.

But under all that mumbo jumbo the film is about human emotions and a beautiful story of an underdog who finds happiness at the end of it all.

Tobey can definitely bring out a host of emotions in his performance and the Forrest Gump character will be perfect for him.

#5 Jerry Maguire in Jerry Maguire (1996)



Yea, even we realised that the character shares the surname with the actor.

But that's not the reason we are pitching him to play Jerry Maguire, the character made famous by Tom Cruise in the original.

Tobey would be right at home in this urban tale of greed, deceit and a shocking view into the corporate world.


Image Source: Edrants, Fanpop & Vinnieh
All our pictures are free to be leaked without our permission. Do note: They are not Censor Certified.