Halloween 2020 was celebrated by many celebrities with great enthusiasm, and they took to their social media to show off their spooky avatar. Gigi Hadid and Zayn Malik shared their first family picture with their baby girl, and they were all seen in their Halloween costumes. Ever since Gigi gave birth to the baby, fans have been eagerly waiting to see a glimpse. While the couple did share the Halloween photo, they covered their little one's face with an emoji, as they transformed her into a cute little Hulk. Now, Mark Ruffalo, who plays the role of Hulk in the Marvel Cinematic Universe, has reacted to the 'little Hulk'.
In the picture shared by Gigi Hadid on her Instagram stories, Gigi was seen dressed up as a video game character, while Zayn took some inspiration from the Harry Potter series and was seen dressed as a student from the Slytherin House. The picture shows Zayn holding their baby adorable, and only her green Hulk hair and little green costume were visible. Gigi had covered her face with a Hulk GIF, and also placed a Hulk hand emoji over the picture.
Now, as this picture was reported by People Magazine on their Instagram, Mark Ruffalo dropped a lovely comment on the post, approving of Gigi Hadid and Zayn Malik's baby's costume. He wrote, "Happy 1st Halloween to a fellow Strongest Avenger You look smashing!"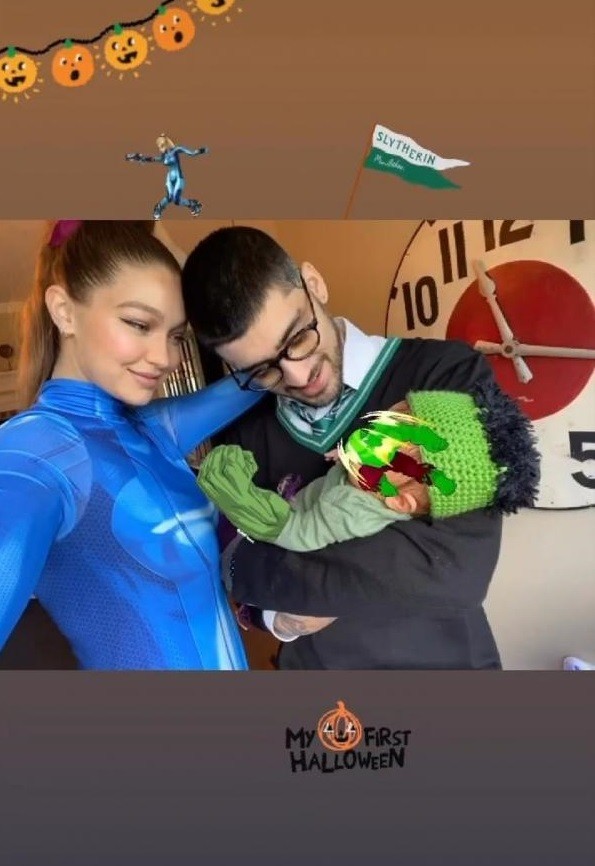 Image Source: Instagram/gigihadid/markruffalo