Ben Affleck, Charlize Theron, Late Chadwick Boseman And Other Actors Who Delivered Best Performances In Foreign Films 2020
Take a look at actors in foreign films, who shone like the sun was going out of fashion. Ben Affleck, Charlize Theron, late Chadwick Boseman, Kate Winslet, Namit Das, Mark Ruffalo and others; here are the ones that delivered their best performances in 2020.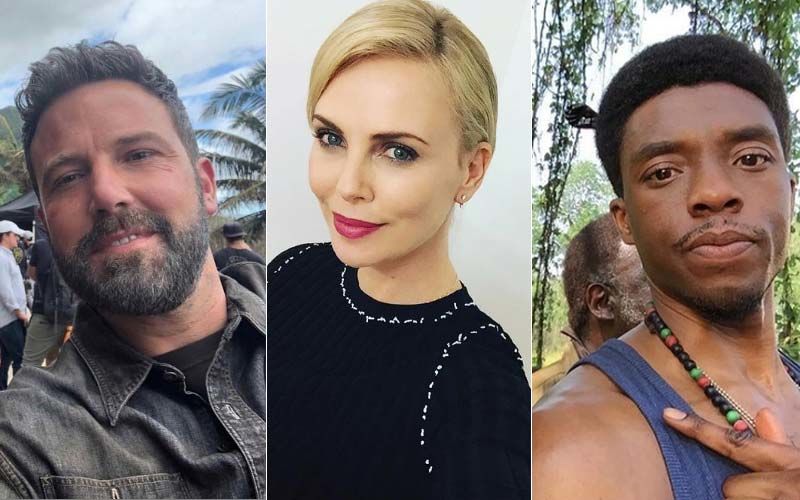 I always say THEIR best is far superior to OUR best. In 2020 which performance-wise was quite mediocre in Bollywood, these actors in foreign films shone like the sun was going out of fashion. Ben Affleck, Charlize Theron, late Chadwick Boseman, Kate Winslet, Namit Das, Mark Ruffalo and others; ones that delivered their best performances in 2020.
Ben Affleck In The Way Back: Sadly Affleck's sincere Oscar-worthy performance(if there is an Oscar ceremony next year) is far more impressive than anything in this mediocre drama about finding your way back. The chance to redeem himself by turning basketball coach to his former college's student is nothing but Sidney Pottier's To Sir With Love, with 'Sir' Ben Affleck in a ceaseless alcoholic slur. The rapport with the predictably rebellious basketball boys gives us no memorable student-mentor moments. Affleck's endlessly dour expression suggests otherwise. Affleck shows his alcoholism with terrifying bluntness. It's like asking Harvey Weinstein to play a serial sex offender.
Javier Bardem in The Roads Not Taken: The Spanish Javier Bardem is among the most influential actors of contemporary times. He can make the most complex of characters look effortless on screen because he doesn't ACT. He just IS. This holds true of his latest work, a deeply disturbing if somewhat scattered and sketchy, a portrait of a mind on the verge of destruction. Javier is so credible as Leo a writer who has lost the plot, that at several points in the dispassionately poignant story I found myself flinching away from the actor's disorienting portrayal of abject disorientation, a condition so isolating that only Leo's daughter is willing to live with it.
Marisa Tomei In The King Of Staten Island: As a single mother trying to balance a possessive son with an adamant suitor, Marisa Tomei steals the show. Tomei, a terrific actress in the best of times, brings a kind of wishful wackiness to her single mother's role. No self-pity here, but loads of assertive parenting. You will love Tomei when at one point she throws both beta and boyfriend out of her home and shares drinks and laughter with a female friend instead.
Mark Ruffalo In I Know This Much Is True: Frankly I got into this 8-hour 8-episode treatise on twinned trauma for Mark Ruffalo who not plays the real-life twins, one of whom happens to be a paranoid schizophrenic but also co-produces this commendable but dark and depressing real-life drama.Ruffalo's commitment to playing the real-life twins Dominick and Thomas Birdsey is so supremely complete, I wondered why we are so quick to congratulate Bollywood actors for "daring" to play gay or for putting on weight to look older? Ruffalo plays the troubled twin with oodles of extra weight. That's not prosthetics. The series was actually shot in two separate time frames to accommodate the two characters in their different weight zones. It is an impressive achievement but not one punctuated with self-congratulations. Ruffalo gives plenty of space to other actors to come forward in the plot and make space. The first episode has a deeply stirring performance by Melissa Leo as Twins' dying mother. Ms Leo looks brutally authentic as dying a woman.
Charlize Theron on The Old Guard: If you are a Charlize Theron fan as I am, you would find it as easy to accept her as the disfigured prostitute in Monster as you would find it to accept her as an immortal warrior in the Old Guard. This is a surprisingly charming take on the super-hero theme. Admittedly, much of the charm stems from Ms Theron's ability to transform into a kickass warrior with the ferocity of Spiderman, the tenacity of Wonder Woman, vivacity of Catwoman and audacity of James Bond.
Namit Das in A Suitable Boy: Time to recognize fringe talent. Each of the three wannabe husbands of the protagonist in Mira Nair's charming ode to arranged marriages, is played by actors who look supremely comfortable in their parts, but Namit Das is especially engaging as a small-town humble sincere shoemaker with ambitions of marrying above himself. It is an emphatically empathetic character in a series teeming with enough characters to populate a small village.
Evan Rachel Wood in Kajillionaire: If a lockdown had a human form it would be Evan Rachel Wood in this extremely weird film about a weird family doing weird things. She plays a strange daughter of a freaky dysfunctional family where her parents have rared their daughter to be a chronic scamster. Petty crime is their way of life. The three-member family is so strange in its insulated emotionless togetherness that we as an audience feel uncomfortable watching them. Evan Rachel Wood has played a severely disturbed girl earlier in a film called Allure. Nothing prepares us for her performance in Kajillionaire as a girl on the verge of a nervous breakdown, functional as a tool in her parents' life to the point of being non-existent.
Kate Winslet in Ammonite: Winslet plays British palaeontologist Mary Anning in the 1840s. As played by Winslet, Mary is a woman who has shut out all emotions. Winslet reminded me of Shabana Azmi in Deepa Mehta's Fire. Kate Winslet may be known by Titanic even today. But she has a formidable body of work to her credit. In Ammonite, she is like a ball of raging fire threatening to erupt but never allowing herself that freedom to let herself go.
Chadwick Boseman In Ma Rainey's Black Bottom: just watch the film for our Black Panther star Chadwick Boseman. This is his farewell performance before he died so suddenly on us. To know that the late actor went through this gruelling part which requires massive amounts of emotional and physical investment while struggling with cancer, is to be inspired and motivated for all times to come. To be honest, I though all those words of praise being heaped on Boseman's performance were a part of the posthumous hysteria that every actor's post-death release is subjected to. But, no. This is indeed a great performance in a not-so-great film. No words are enough to describe Boseman's powerful grip over a slippery character who is far more troubled than he outwardly seems.
10. Lance Henriksen In Falling: Only an actor as wizened and experienced as Lance Henriksen could have pulled off this poisonous patriarch's performance without making him look like a snarling villain. Viggo Mortensen steps back as an actor to let Henriksen take centre stage. It's a grand gesture that only a character as generous and giving as John could make. Henriksen quite simply the most unfatherly father we've seen in an American film. His snide comments and his unmistakable contempt for his kind gentle son is so offensive that I often found myself asking, would any son bring this monster-father home?
Anya Taylor-Joy In The Queen's Gambit: As the future chess champ Beth Harmon, young actress Anya Taylor-Joy drew me so deep into her character's dark complex world that by the time I finished all seven episodes of her incredible success story(no skips, no skimming over any episode) I was cheering for Beth as though she is someone I know well.

Image source: Instagram/benaffleck/charlizeafrica/chadwickboseman