Cardi B Sans Makeup Rants About Not Having Curls Like Her Daughter; Fans Gush Over Her Look, 'Natural Beauty' - VIDEO
Rapper Cardi B's no-makeup look and those beautifully long and luscious tresses have got fans in awe; the rapper is hailed as natural beauty. Take a look at the video now.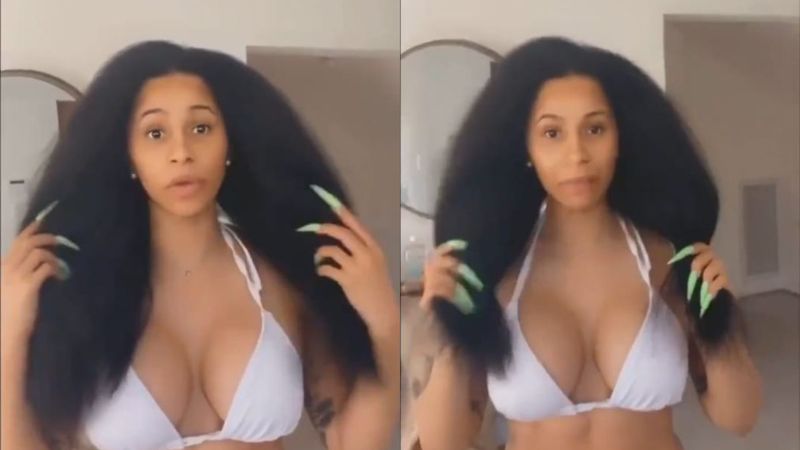 Rapper Cardi B is quite a badass in almost everything she does; be it her songs, performances, statements, social media posts or her appearances. Well, Cardi B is also popular for being brutally honest about her herself. And by that, we mean the singer doesn't shy away from flaunting her natural looks, especially at a time when celebrities are quite conscious about facing trolls and negativity. A video of Cardi B, sporting zero makeup, as she explains her hair shenanigans have gone viral and fans can't stop gushing over the Taki Taki rapper's luscious hair and natural beauty sans makeup.
The video sees Cardi B saying how she doesn't have curls as good as her daughter and that it gets thick and frizzy after every wash. Holding her tresses, Cardi B said, "Okay guys, so this is really how my hair is. My hair gets like this when you blow-dry it then two days later it just gets puffed up like. My hair is not curly. Like my daughter's hair is curly, she got like curls. But my shits don't get curly at all it's just straight like this." She then went onto give some tips as well. "But I so need to moisture and a good hair mask to help your hair grow. And all good things they put in your body, you got to put it in your hair," added the singer.
Well, fans were in awe of Cardi B's no-makeup look. We came across comments like, "Natural Beauty," "She's so beautiful omg," "Your gorgous and your beautiful all natural or how ever you want to be there Are not alot of females who can do it like you!" "I love when she wears her hair out!! Stunning"
Check out the video below:
In the past, Cardi B had opened on
getting sexually harassed by a photographer during her initial days
. "I will never forget how I went to shoot for this magazine and the photographer, he was trying to get close to me like, 'Yeah, you want to get in this magazine?' Then he pulled his d*k out. I was so fking mad, and I was just like, 'This is crazy.' I was like, '[You're] f*king bugging.' You know what? I'm out. You know what's so crazy? I told the magazine owner and he just looked at me like, 'So? And?'"
image source: twitter/CardiBTeam