Demi Rose Makes Jordan Sweat In New Holiday Pics, Poses In Ultra-Revealing Black Velvet Dress - Pic
Doing just touristy things, Demi Rose posed on a big rock wearing a sexy black velvet backless dress. More than her sexy curves, what catches our eyes is her funky ankle-length boots Check out her oh-so-hot picture!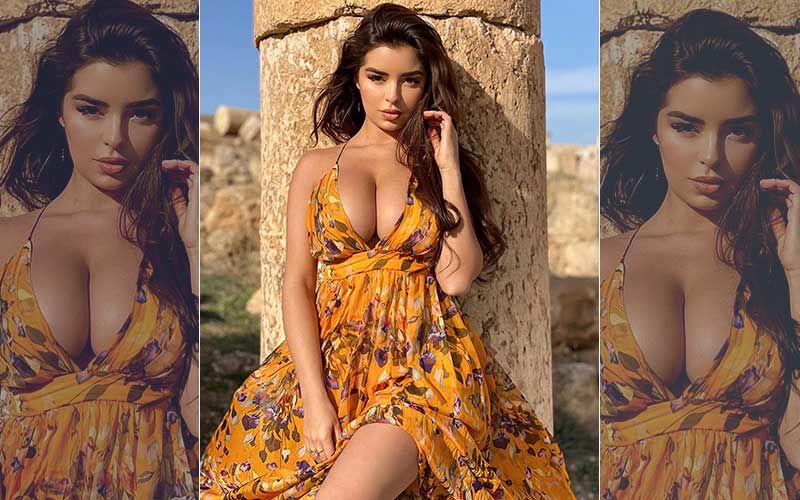 Demi Rose being Demi Rose surely knows how to leave everyone sweating even in winters. I mean, just scroll through her Insta feed you'll know what we are talking about. Be it flaunting her perfectly curvaceous body to showing off her bikini hot bod, Demi Rose has been killing it on Instagram. Last night, Demi took to Instagram and shared a sexy picture from her latest vacation. The model is currently in news for getting permanent makeup done.
Just yesterday,
we told you about model's new obsession with permanent makeup for herself
. Taking to Insta story, she shared a video while flaunting her new done lips. She captioned it, "My lips are still looking good!" Later, in her caption she also explains how she has to keep her lips moisturized, "You have to keep the tattoo super moisturized then it kinda flaked off and leaves a slightly lighter shade."
Not only the lips, but she has also got her eyeliner inked on her eyes for eternity. In the video, she revealed how her mother got permanent makeup. And now she's been following the same path like her mother and she has too opted for permanent makeup. She wrote, "I love permanent makeup. I grew up watching my mom have it. She had eyebrows, eyeliner and lips! Like mother like daughter."
Images Source: instagram/demirose