Dwayne Johnson Aka The Rock Shares His Cheat Meal With Fans On A Live Chat; Leaves The Twitterati Amused
Dwayne Johnson aka The Rock recently hosted his #CheatMealSunday live chat on Instagram and enjoyed a huge French toast and some Tequila. As The Rock shared his cheat meal with fans through the live video, the Twitterati cannot help but talk about the unbelievably huge French toast cheat meal. Read on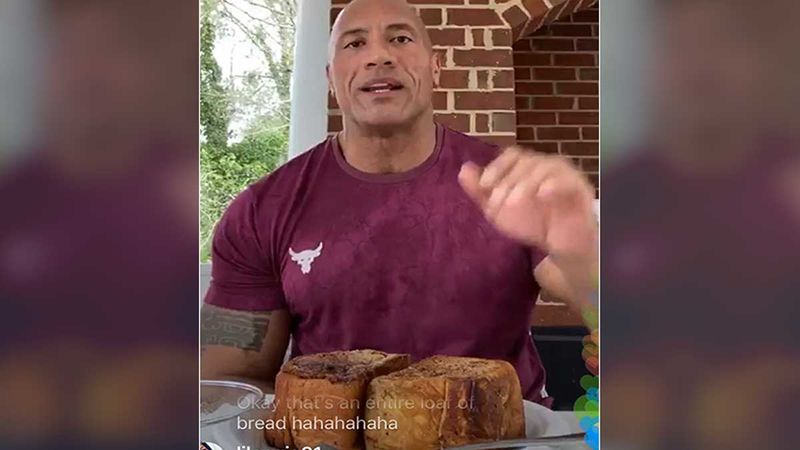 Time and again, Dwayne Johnson aka The Rock has shared his diet with all his fans through social media or in interviews, but every time, the actor manages to leave many amused. Dwayne's diet consists of more than three pounds of meat or fish per day, 5.5 cups of rice, 4 cups of vegetables and 14 egg whites which rounds up to the actor almost eating between 5,000 and 6,000 calories to maintain his physique. Just recently, The Rock recently hosted his #CheatMealSunday live chat on Instagram and enjoyed a huge French toast and some Tequila.
On Instagram, Dwayne shared a post with a picture of a huge basket containing some awesome things to eat and drink. Sharing the picture, the actor captioned it, "My prep is done for our big Q&A, my friendsJoin me at 5PM TODAY as we have our first ever #CheatMealSunday LIVE!I'll make my favorite @teremana "quarantina" margarita And my Brioche French Toast will be my main event.Bring your favorite beverage and cheat meal - let's do this. See ya at 5PM LIVE #itshappyhoursomewhere." As the Jumanji actor had his first ever Cheat meal Sunday live, during the live video, Dwayne Johnson was spotted enjoying Brioche French Toast with some peanut butter and syrup and some tequila.
With Dwayne enjoying his massive size French toast which can literally feed a family of five on social media with fans, the Twitterati were in awe about the cheat meal of the star. On Twitter, while many fans were amused with Dwayne's diet, one fan tweeted, "The Rock is on Instagram Live eating the biggest french toast I've ever seen, drinking tequila whilst listening to Taylor Swift absolute legend," and called him a legend.
Apart from this, another fan tweeted, "Right now on Instagram, @therock is eating his cheat meal which consists of two pieces of brioche french toast that are the sizes of bricks." Check out fan tweets below:
Image source: Twitter