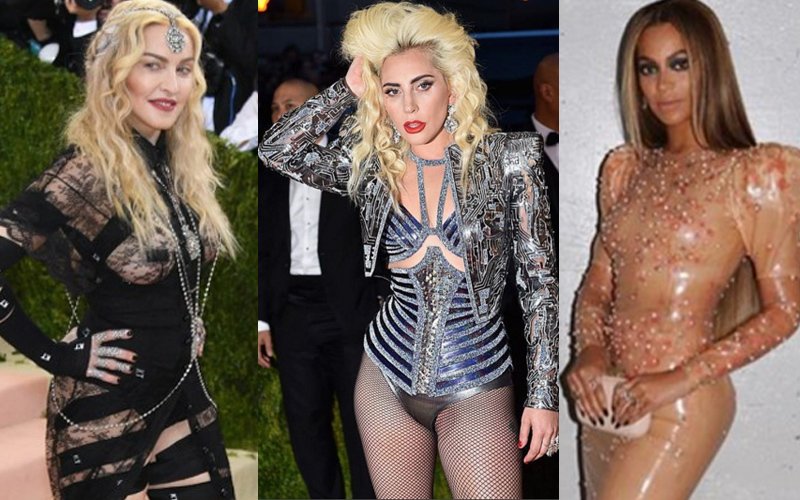 Your browser does not support the video tag.
B
yonce Knowles stole the show at the Metropolitan Museum of Art with a unique peach coloured latex dress from the Givenchy wardrobe.




Queen Bey conveniently married shoulder puffs, latex and the colour peach to create a heady fashion cocktail. She finished off the look with super-straight and super-tight hair.




The couple Gigi Hadid and Zayn Malik stole the show with their armoured ensemble.




Kim Kardashian and hubby Kanye West almost colour coded. Kim decided to beat the heat with a thigh-slit ice-white gown with silver frills from the Balmain stables. The two looked super cool together.




Light colours were the order of the night with Blake Lively deciding to go for a subtle coloured gown from the house of Burberry comfortably hiding her baby bump.




Emma Watson looked totally fetch in her Calvin Klein creation that was a coming together of an off-shoulder blush coloured corset and a gown with a long tail.




Emily Blunt was a picture of glitter in a Michael Kors lace creation, showing off her baby bump proudly.




Madonna decided to go back to her dare-bare attitude but that frumpy hairstyle which didn't do her any favours.
She wanted to look like a futuristic warrior princess but ended up looking like a fortune-teller who's nobody is interested in.




Always the one to shock, Nicky Minaj and Lady Gaga came looking like this!!! Whoa!




Frieda was simplicity personified with her light-coloured sleeveless gown that looked right out of a medieval film.




The Jenners, (show kendall and kylie) for you ladies and gentlemen...what do you think?




But the lady who ruled over all was Kate Bosworth with this Dolce and Gabbana ensemble that married a fairy-tale with sci-tech concepts.




Selena Gomez forced 70s polka dots and grunge leather fashion to compromise and come up with a unique look that only she could carry off.




Taylor Swift once again made her platinum blonde appearance and decided to keep it short in this Louis Vuitton ensemble.

So that was our take on the fashion scene at the Met Gala '16.


Image Source: celebritybabies, instagram/taylorswift, beyonce, selenagomez, kendalljenner, friedapinto, ladygaga. nickyminaj, madonna,beylite & metgala