FRIENDS 25: Monica Courteney Cox And Phoebe Lisa Kudrow Have A Reunion, Joined By Singer Charlie Puth
It was the 25th anniversary of our favourite sitcom FRIENDS and all we wished for a reunion of Joey, Ross, Rachel, Phoebe, Monica and Chandler. Well, our wish came true, but just partly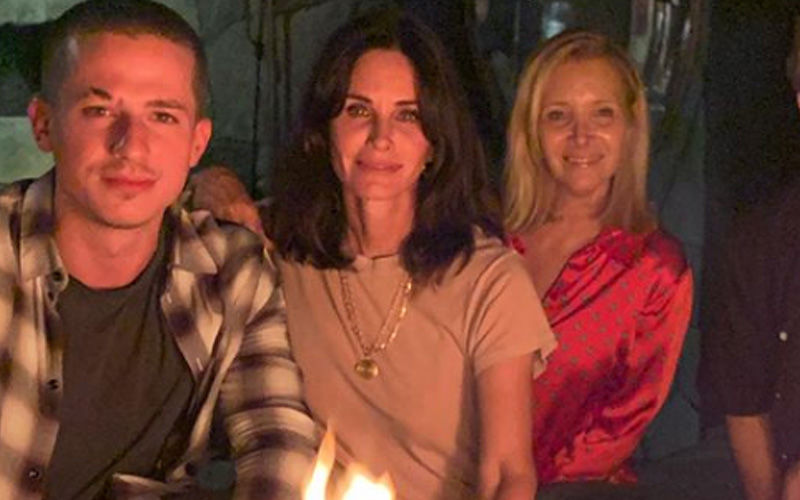 I'll be there for you… Cause you're there for me too. These words mean something to millions. Well, we are die-hard FRIENDS fan and we can't contain our excitement as Monica and Phoebe had a reunion. Though we would have loved to see Ross (David Schwimmer), Rachel (Jennifer Aniston), Joey (Matt LeBlanc), Phoebe (Lisa Kudrow), Chandler (Mathew Perry) and Monica (Courteney Cox), all of them in one frame, by we are happy enough to see the two ladies together! Yaay. Courteney Cox and Lisa Kudrow recently had a reunion to celebrate the 25th anniversary of FRIENDS and the picture is up on social media. But they weren't alone!
Courteney Cox put up a picture on Instagram where we see her posing with Lisa Kudrow. We so wish the third lady, Rachel played by Jennifer Aniston too was a part of this image. But as said, these ladies had some nice company. Charlie Puth and director Judd Apatow are also seen in the picture. Courteney put up the picture with caption, "Trying to play it cool with all this heat. #friends25." Oh boy, this brings back so many memories, right? We wonder what are they doing with Charlie Puth though!
On the 25th of FRIENDS, Courteney had put up a picture that had all six characters with the caption, "Celebrating a Thursday night 25 years ago. Thank you to all of our loyal fans across the world. You've certainly been there for us! I love these guys!"
Since long, there has been a conversation over FRIENDS reboot and we so hope that it happens soon.
Image Source: Instagram/courteneycoxofficial